ePD Newsletter Volume 2: April 2019
ePD is an electronic publication that gives Concordia part-time professors an overview of the exciting research and training activities supported by Professional Development funding. It includes information on conference presentations, workshops, research, research/creation and training. All of the activities included in ePD highlight our members continued commitment in creating an engaged, high-quality learning experience for our students and our active contributions to research at Concordia from a wide range of local, national and international platforms.
Dan Babineau  Andrew Forster  Krzysztof Dzieciolowski  Alison Reiko Loader  Chiara Gamberi  Steven Schnoor  Pata Soares De Macedo  Dipti Gupta  Salinda Hess  Nelson Henricks  Steven Lapidus  Jason Prince  Renee Baert  Eric Chevrier  Élisabeth Couture  Jeremy Petrus  Erica Botner  Caroline Laurin-Beaucage  Susan G. Scott  Pankaj Kamthan  Sandra Eber  Jonathan Martineau  Lon Dubinsky  Beverly McGuire  André LeBlanc  Adrian Norvid  Barbara Todd  James Freeman  Sara Hanley and Kelly Keenan  Philip Szporer  Jerry Krauel  Alexander Antonopoulos  Patrick McDonagh  Francine Potvin  Joanabbey Sack  Pamela Gunning  Susan J. Palmer  Doina Lecca  Mindy Yan Miller  Nicole Paquet  Sara Terreault  Sharyn Sepinwall  Jenny Lin  Valérie Lamontagne  Francine Tremblay  Cathia Pagotto  jake moore  Colleen Gray  Lorraine Oades  Elma Moses  Madeleine Thériault  Robert Cox  Eleni Panagiotarakou  Michiko Aramaki  Laura Endacott  John Donahue  Erik Goulet  Howard Davies  Florence Figols
---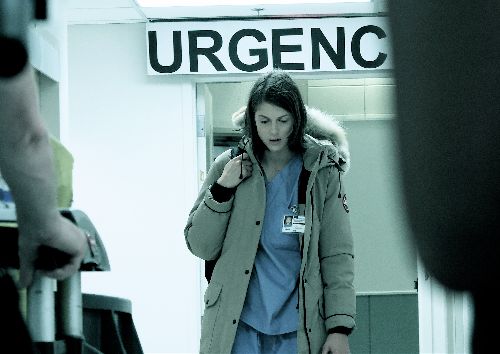 What started out as a light-hearted short 'spoof' for Dan Babineau turned into a twenty-minute drama that was aired on Christmas day on the CBC television network. Babineau's film Little Girl Blue tells the story of a young nurse on Christmas Eve who experiences such a bad day in the emergency room that by the end of her shift she decides to quit her job. On her way home, however, a Christmas miracle in the form of a pregnant homeless woman changes the course of events in unexpected ways.
Little Girl Blue was produced on a shoestring budget with a crew of twenty to thirty student volunteers, many from Concordia's Communication Studies and Mel Hoppenheim Film Production programs as well as Champlain College, where Babineau also teaches. CUPFA Professional Development funding allowed Babineau to utilize all of his skills as a filmmaker, including scriptwriting, fundraising, production, post production and distribution. The project was also supported by the National Film Board of Canada and numerous industries and institutions, including John Abbott CEGEP's paramedic program, which donated one of their working ambulances and whose department head played a paramedic in the film. Villa Medica Hospital gave Babineau permission to shoot their exterior and entrance and Dr. Marc Cotran, an emergency room doctor, portrayed the Code Blue leader in the film.
For 25 years Dan Babineau has been a passionate teacher of filmmaking, film history and media studies in the Communication Studies department at Concordia and at Champlain College, where he has also been the Department Coordinator for 10 years. He brings to his classes a diversity of knowledge from experience in music, radio, corporate communications and advertising. A firm believer in bringing real life into the classroom and students out into the real world, he is often the originator of special projects that give students a chance to work together and grow beyond the regular curriculum.
---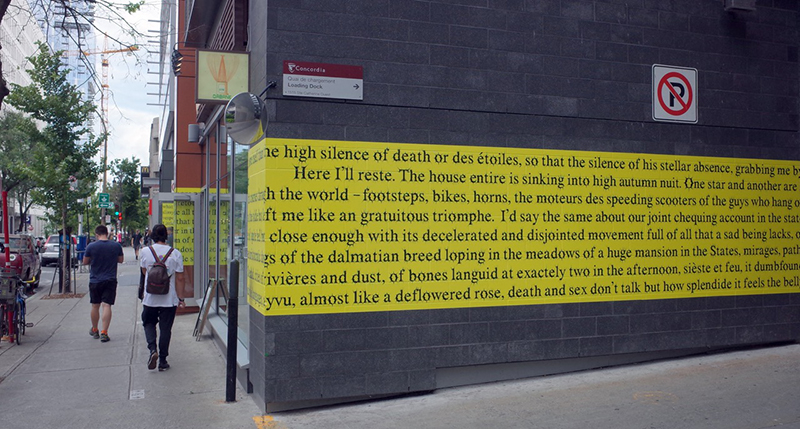 Andrew Forster's Paraguayan Sea was a public artwork installed on the exterior of the Concordia EV building from August 2017 through March 2018. The large yellow band of text wrapped around the ground floor of the EV Building on Ste-Catherine and McKay streets. A collaboration with the Montreal poet Erín Moure, this graphic and typographic public artwork is a translation of Brazilian writer Wilson Bueno's novela Mar paraguayo, which was translated from Portunhol and Guaraní into Frenglish and Guaraní by Moure. The font ('Iguana') was designed specifically for this project. A public round table discussion with Moure, who gave a reading from her translation of the novella, faculty member Sherry Simon (French Studies) and Forster was held at the FOFA gallery.
Andrew Forster's art practice includes video-installation and text/performance interventions for public space. His critical writing looks at art as an antidote to the 'designed world' and includes writing on Vito Acconci, Theaster Gates and Hito Steyerl. He runs the storefront venue l'Endroit indiqué at the corner of Laval and Marie-Anne, Montreal. Forster has participated in several design competitions for public space, including with architects Atelier Big City for Place des Arts, Montreal (2002) and Wilder Building Danse (2017). Recent work with choreographers includes collaborations with Suzanne Miller (Chandigargh, India, 2017); and object/video design for Sybille Muller and Ingrid Valus (both at Tangente, 2018). A current video project, The Machine Stops, set in Chandigarh, India, uses Le Corbusier's Capitol Complex as the location for a speculative fiction exploring the aesthetic space of modernist architecture. Forster teaches in Studio Arts, Design and Computation Arts and Art History.
---

Krzysztof Dzieciolowski was the recipient of a $10,000 Special Project Award for an industry applied research project entitled Bridging Academic and Industry Expertise for Big Data Probabilistic Data Matching to develop new methodologies in predictive algorithms and data matching. He worked with undergraduate research assistant Daniel Marinescu from the John Molson School of Business to undertake groundbreaking research in Data Mining that had concrete practical applications for the industry partner. Dzieciolowski and Marinescu undertook a comprehensive review of the associated literature, developed computations and wrote a research paper that was presented at the SAS Annual Global Forum, Orlando, Florida, in April 2017 and the International Conference on Big Data Analytics, Data Mining and Computational Intelligence, Lisbon, Portugal, in July 2017. He also presented the result of his research at a jointly sponsored CUPFA/JMSB talk in March 2018. Over the course of the Special Project, Dzieciolowski was also invited to give talks on Data Mining to undergraduate and graduate students in JMSB, to be an advisor to the Data Intelligence Society of Concordia, and to sit on the Industry Advisory Board at the Concordia Data Science Research Centre.
Krzysztof Dzieciolowski has been a part-time faculty member in the John Molson School of Business for the past 24 years, where he has taught undergraduate and graduate courses in Statistics, Data Science and Research Methods. Dzieciolowski helped introduce and has been teaching in the fast-growing Minor in Data Intelligence in JMSB, one of few of such programs in Canada. He championed the creation of a partnership between JMSB and SAS, the world's largest statistical software company, which led to the integration of state-of-the-art data science software in teaching and the development of the JMSB-SAS Joint Certification in Business Analytics; in 2017-18, 29 JMSB students were awarded the certification. Dzieciolowski introduced new computer lab-based teaching methods and was invited to present the successful JMSB Data Science program at the SAS Global Forum conference in Denver in 2018. Dzieciolowski graduated with MSc in Mathematics from the University of Warsaw, Poland, and completed a PhD in Statistics at Queen's University in Kingston. He is one of the most recognized experts in the field of Data Science in Canada. He currently leads an advanced analytics team at Rogers Communications that develops predictive models and optimized business solutions.
---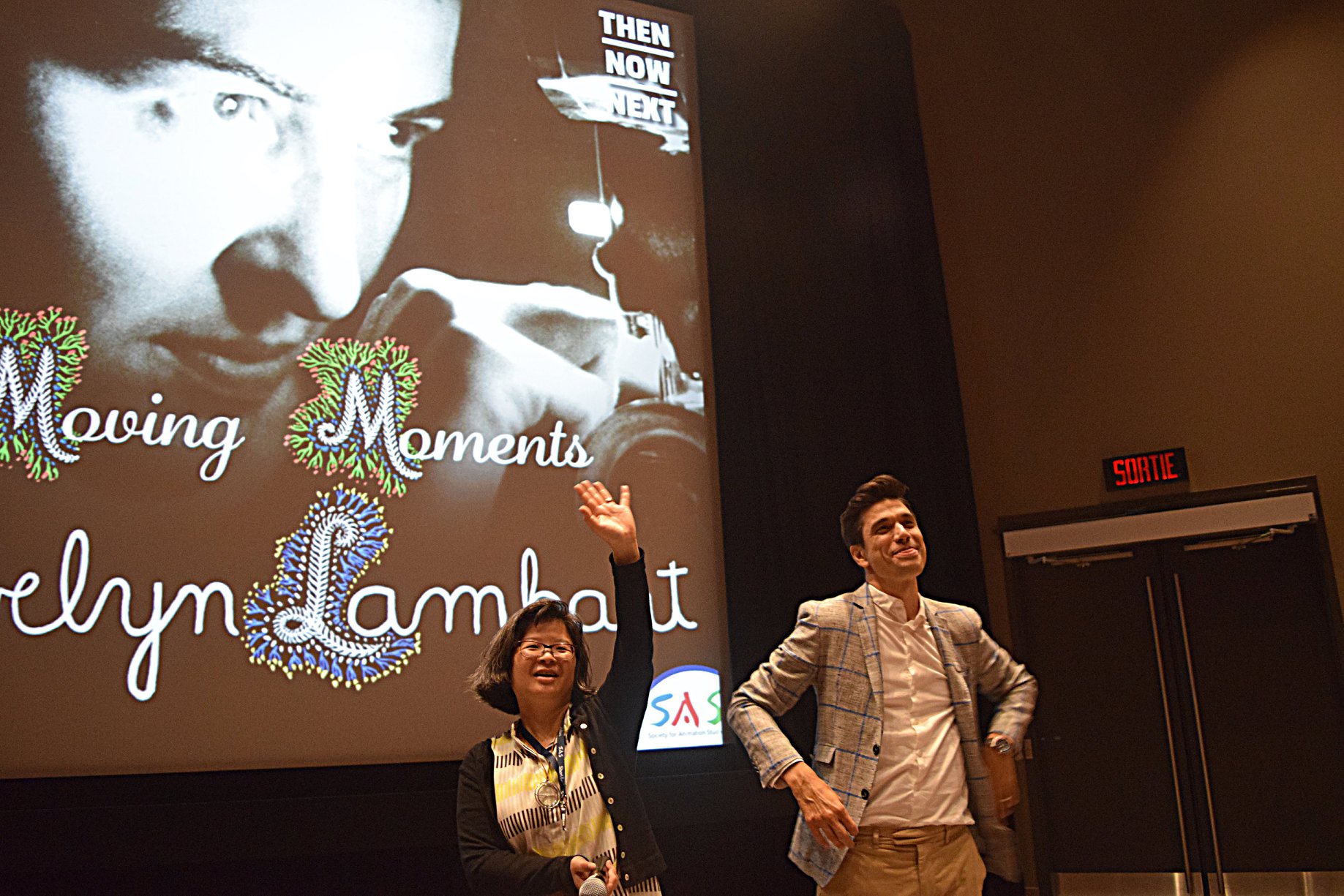 Alison Reiko Loader co-chaired the 30th annual international Society for Animation Studies conference entitled Then|Now|Next with Associate Professor Marc Steinberg. The conference took place in June 2018 at Concordia University. Over 220 applications from all over the world, including several pre-constituted panels, were scored in a rigorous double-blind process that resulted in a selection of presentations given in four parallel tracks. Three keynote addresses, seven screenings of animated shorts, and exhibitions of installations were open to public. To provide focused feedback among peers, established scholars led Intimate seminars for over 30 emerging researchers. Two animation workshops, each with about 20 registrants, focused on animation and sound composition done directly onto film. The CUPFA PD grant allowed Loader to hire two other CUPFA members and several undergraduate students to work on conference design and organization.
Alison Reiko Loader studies old optical technologies, teaches digital production and makes art. Part media artist and part media historian, her past work includes 3D game design in Tokyo and directing short CG animated films at the National Film Board of Canada, while recent collaborations with biologists mix manipulated moving imagery, installation, and entomology. Her exhibitions and publications explore anamorphosis, camera obscuras, stereoscopy, scientific visual culture, race, gender, and animation, while her doctoral research comprises the history of Maria Short and her Popular Observatories and Camera Obscuras in nineteenth-century Edinburgh. Loader recently completed her PhD in Communication Studies at Concordia. She teaches in Design and Computation Art and the Mel Hoppenhiem School of Cinema.
---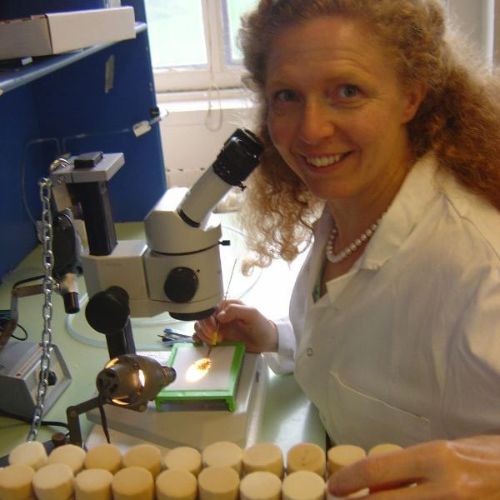 In her laboratory research entitled Oncogene activation in cystic disease: towards a polycystic disease cure, molecular development biologist Chiara Gamberi works with Drosophila (aka the common fruit fly, to model human disease. The effectiveness of Drosophila rests on the remarkable conservation of molecular pathways of polycystic disease in the fly. Drosophila has the equivalent of most human organs in a streamlined format that facilitates experimental analyses. The utility of fruit flies as a genetic model is manifold and includes their short generation time and inexpensive culturing. Drosophila is also a great organism for undergraduate research, which has contributed to its establishment as genetic model. In her research, Gamberi leveraged the fruit flies' unique features to study the molecular composition of the renal tubule, its cellular properties, including distribution of cellular markers of tubule integrity and function, and the effects of drug candidates. By studying the conserved mechanisms of renal cyst formation in the renal tubule, her ultimate goal is to understand the bases of renal function.
Chiara Gamberi teaches in the Department of Biology at Concordia and has engaged students in her laboratory research. In the classroom, to foster development of critical thinking skills and real-life experiences, she has implemented a pedagogic project in which students are taught how to research primary research literature and write a collaborative article of publication standards. This initiative yielded a first high-impact publication co-authored with 106 undergraduates in 2017, one currently under review, and one of imminent submission.
---
Steven Schnoor's paper Accumulation by Self-Dispossession: The Politics of Recognition, Indigeneity and Decolonization in Struggles over Resource Extraction in Latin America was presented at the annual conference of the International Association for Media and Communication Research, held in June 2018 at the University of Oregon in Eugene. The conference attracts a large number of Canadian, American and international attendees with a wide variety of research interests across the discipline of Communication Studies. Schnoor's presentation discussed Canadian mining activities frequently on or adjacent to territories inhabited by Indigenous populations, which have proliferated dramatically throughout Latin America over the past 15-20 years. The feedback he received from his talk was particularly useful as he is currently modifying his recently published text into a book chapter entitled A Vulture is not A Dove: The Politics of Indigeneity and Resistance to Canadian Extractivism in the Americas.
Steven Schnoor received his PhD in Communication & Culture at York/Ryerson Universities. He teaches in the Department of Communication Studies at Concordia University and is a postdoctoral fellow at the Department of Anthropology at McGill University, where he works with the Centre for Indigenous Conservation and Development Alternatives. His research focuses on how discourses of democracy and development have been strategically reconfigured so as to advance projects that are widely experienced as anti-democratic, destructive and exploitative, and how this represents a critical component of a nascent strategy by which neoliberal regimes of capital accumulation are advanced and legitimized today. For over ten years he has been researching how Canadian mining projects are advanced in the Global South, with a particular focus upon the politics of engagement with local communities residing near Canadian mines in Central America.
---

Pata Soares De Macedo created the Mobile Art Lab as a platform to offer bookbinding workshops to the Montreal community. Her intended public would normally have little or no previous exposure to art making. She sees the mobile lab as a catalyst to engage a diverse range of people in activities that provide an opportunity to learn practical skills and open up new pathways of creativity and enjoyment.
The Mobile Art Lab was built on a trailer base and designed so that it could be pulled by bicycle through different Montreal neighbourhoods. Part of the challenge of this project was to ensure that the structure could accommodate a comfortable working area for Macedo and one other person; this involved research into scale, materials, aerodynamics and lighting. Designing a structure that was light in weight, attractive to the passerby and functional for the intended purposes of the workshops was essential. So far the Mobile Art Lab has generated a lot of enthusiasm and collaborations in the city and in communities outside of Montreal.
Currently based in Montreal, Pata Macedo is a graphic designer and educator originally from Brazil. Since 2001, she has been running her own design studio where her practice has focused on developing a variety of graphic design projects in the cultural and educational sectors. Her clients include museums, not-for-profit arts organizations, academic research institutes, and independent artists. Since 2003, she has been teaching design fundamentals, book design and typography in the Design and Computation Arts Department at Concordia.
---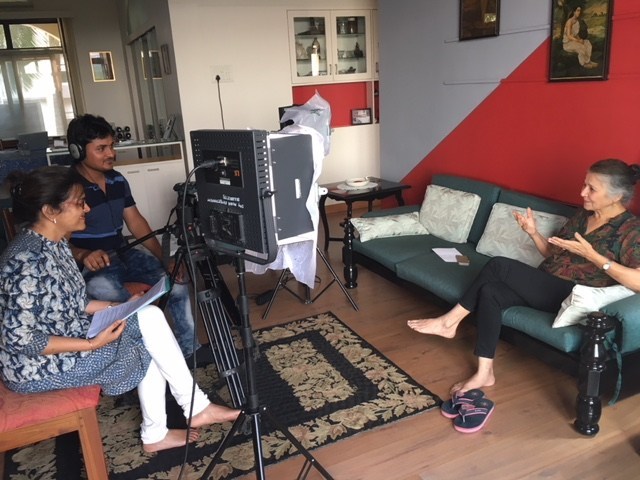 Dipti Gupta's recent project focuses on narratives in Indian Cinema and their impact on the audience. Indian Cinema is increasing in popularity around the world, especially amongst the diaspora. Most Bollywood films are created for entertainment purposes, with only a few focusing on important social issues, particularly in regard to gender. For her project, Gupta travelled to Mumbai where she interviewed seven filmmakers on topics including mythology, motherhood, marriage, melodrama, masculinity, and misogyny in their films. These interviews provided Gupta with significant material to undertake further research on shifts taking place in the Indian cinema industry. Her seven interviews will be edited and distributed on YouTube and Vimeo.
Dipti Gupta is a professor, researcher, and independent documentary filmmaker. She teaches in the department of Cinema-Communication at Dawson College, Montreal. She also teaches courses on Bollywood cinema at Concordia University. She is currently the Director for the South Asian Film Festival of Montreal, which has been in existence since 2011, and has been a member of the programming committee since its inception. For three consecutive years, she has been a jury member and panelist in the animation category for the Yorkton Film Festival, Saskatchewan. She is an active board member and past president of the Teesri Duniya Theatre company in Montreal, which is known for its socially and politically relevant plays.
---
Salinda Hess undertook an extensive literature review on the topic of harm reduction in order to provide a critical perspective on its institutionalization within public health programs. Six interviews with health professionals were conducted to determine the experiences of those working in the field. The interviews focused on the relationships between service providers and receivers in two areas of harm reduction: drug use and sex work. Hess's research examines the changing and expanding efforts in Montreal (eg, new safe injection sites), looking at issues within the literature as well as public perspectives on stigmatized behaviours.​ Her research has supported the development of teaching materials on health and issues of harm reduction among marginalized groups, particularly the exponential marginalization of indigenous groups, when combined with drug use and sex work. She presented the results of this research at the Canadian Anthropology Society Annual meeting (CASCA) 2018.
Salinda Hess has been part of the teaching faculty of Concordia for many years. With a BA in biology and chemistry, an ABD in neurochemistry, an MAed in Behavioural Sciences and Science Education, a diploma in Health Administration, certification as an editor for Life Sciences, and a PhD in Medical Anthropology, she has had a long a varied career. Previous work has included: directing the Society for Pollution and Environmental Control in BC, managing medical education with the Addiction Research Foundation in Toronto, executive director in the founding an addictions treatment centre in Montreal, senior medical editor in medical publishing, as well as research projects on health and nutrition, refugees, and social services. Recent collaborative research with Dr. Francine Tremblay has involved student engagement issues in response to concerns about the fragility and anxieties of many students seen in our offices and the desire to understand their experiences. Current research has returned to the topic of harm reduction among marginalized populations.​
---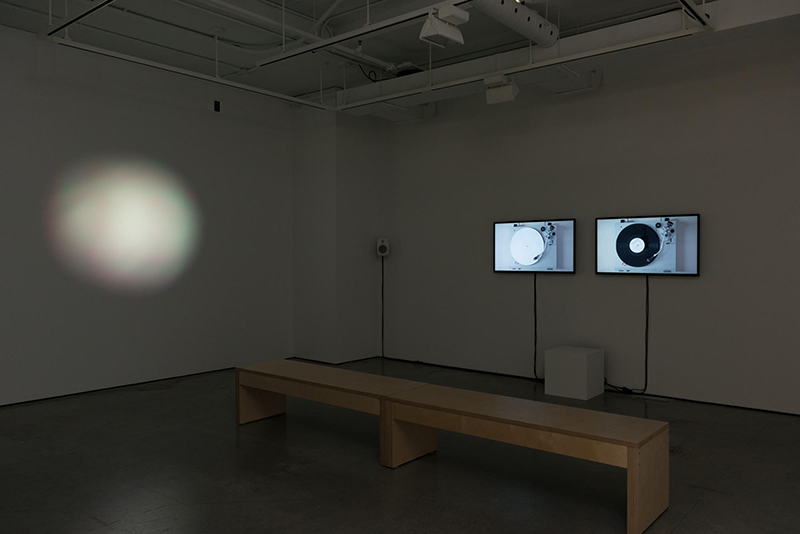 Nelson Henricks completed an Artexte residency in Montreal, from October 2015 to January 2016 to research and prepare the exhibition, Document XXL (April 13 to June 17, 2017). For the exhibition, Hendricks and his filming assistant gathered over five hours of footage. His assistant digitized audio, and typed footage logs. A research assistant uncovered information and documentation related to works by fifteen artists including Sol LeWitt, Françoise Sullivan, Willoughby Sharp, Joseph Beuys, Joyce Wieland, Jenny Holzer, General Idea, Man Ray, Adrian Piper, Michael Snow, and Lawrence Weiner. From this information, 150-word capsules were written for use in the didactic publication that accompanied the exhibition. A number of artists performed on screen or read voice-overs. Filming included Jenny Holzer's Inflammatory Essays, fifteen 100-word texts that explore both left and right-wing political ideologies. Since texts resonate differently when heard rather than when read silently, Hendricks experimented with reading the texts aloud while filming, which led to the idea of adding an audio work to accompany each text. Hendricks invited guest artists whose voice is important to their work, including Jo-Anne Balcaen, Alexis O'Hara, Daniel Barrow, Lisa Steele and Kim Tomczak, to read the texts. Bringing these voices into the exhibition not only animated Holzer's texts, but each word filtered through artists whose use of voice has marked their own art practices.
Henricks is a graduate of the Alberta College of Art (1986). He moved to Montréal in 1991, completing a BFA from Concordia University and a PhD from UQAM. Henricks has taught art history and video production at Concordia, McGill, UQAM and Université de Montréal. A focus on his work was presented at the Museum of Modern Art in New York in 2000. He was the recipient of the Bell Canada Award in Video Art in 2002. A mid-career retrospective of his work was presented at the Leonard and Bina Ellen Gallery in 2010.
---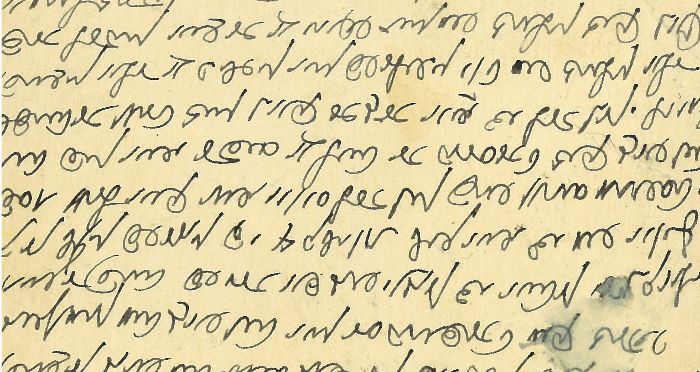 Steven Lapidus translated a collection of eighty Yiddish postcards written by Mr. S. Mandelkern, a Montreal-based Orthodox Jewish immigrant from the Ukraine. The cards, which were sent to Mandelkern's daughters when the writer died, were written between late 1938 and April of 1951. They include a range of everyday topics such as entreaties to purchase rolling paper and tobacco and kosher items from New York City; concerns about family issues such as a divorce, long-term illnesses, and stories of what was happening in Montreal. As a sexton (caretaker) of a local synagogue, Mandelkern discusses duties performed for the Jewish community, the construction of the synagogue in 1948, and local news. References to larger world issues include the November 1947 UN decision to partition Palestine.
Lapidus will merge this research with his Master's thesis, which is based on the memoirs of Mandelkern's son-in-law, which focuses on their shared Ukrainian hometown of Kitaigorod. He plans to publish a volume that will combine personal and quantitative data to illuminate the larger context of Jewish emigration to Canada in the interbellum years.
A scholar of Orthodox and Hasidic Judaism, Steven Lapidus received his doctorate from Concordia University where he has taught for the last several years. His dissertation, Orthodoxy in Transition: The Vaad Ha'ir of Montreal, examined the development of the Rabbinical Council of Montreal in the mid-twentieth century. A former co-curator of the Montreal Holocaust Memorial Centre, Steven has taught and published in various fields, including Canadian Jewish history and the intersection of religion and culture. He is currently at work on a book on Hasidism in Quebec.
---
Jason Prince co-edited Free Public Transport: And Why We Don't Pay to Ride Elevators, a book he oversaw from its inception through to its final release. The book explores the concept of free public transport and the variety of forms in which it has been implemented in cities and towns around the world. It also provides a detailed look at some of the movements and the variety of actors involved in fighting for a more socially and ecologically just city. Prince wrote an extended chapter on the birth and early development of the grassroots municipal party—the Montreal Citizens' Movement (MCM)—which included free public transport as a central plank in its 1974 election platform, as well as the 1975 campaign to try to achieve this promise, while in a minority position at City Hall.
Prince, an urban planner, started his career as executive support to the Fonds foncier communautaire Benny Farm. Between 2008 and 2013, Prince headed a research-action project out of McGill University's School of Urban Planning that focused on the new McGill mega-hospital and the proposed replacement plan for Turcot. In 2009, he co-edited a bilingual book, Montréal at the Crossroads, that was critical of the Turcot project. He also helped negotiate Montreal's first Community Benefits Agreement with the McGill University Health Centre. Prince normally teaches social economy and public policy at Concordia University's School of Community and Public Affairs, while also coaching non-profit businesses full-time as a social economy agent with PME MTL Centre Ville. This semester he is teaching urban planning law in Geography, Planning and the Environment.
---
Renee Baert's curatorial research project involved visiting three major International art exhibitions – the 57th Venice Biennale, Documenta14 (which takes place in Kassel, Germany every five years) and Skulpture Projekte Munster 2017 (held once every ten years in Munster, Germany) during the summer of 2017. The artworks selected for these significant international venues are considered to be the most relevantfor their times and manyaddress urgent social concerns. Earlier visits to the Venice Biennale led her to the development of an independent project with Filipino/Canadian artist Lani Maestro. Visiting all three exhibitions was an ambitious and rewarding undertaking. Among the many works Baert viewed, she took a particular curatorial interest in a film made by Slovenian artist Nika Autor who works with the collective Newsreel Front. Autor presented a haunting film entitled Newreel 63 – The Train of Shadows which traces migration along the Belgrade-Ljubljana rail line, now a notorious route for modern day refugees.
Renee Baert is a critic and independent curator. She has written extensively on contemporary art for numerous art magazines and catalogues and several of her essays have been subsequently anthologized. She has curated numerous exhibitions at galleries across Canada over a span of more than twenty years; between 2004 and 2007 shewas Director/Curator of the gallery of the former Saidye Bronfman Center for the Arts Recent exhibitions include the internationally circulated Shilpa Gupta – will we ever be able to mark enough? (2011-13), a drawing-installation by Monika Grzymala (Arsenale, 2013), and a three-day drawing-installation-performance by Indian artist Nikhil Chopra (Jarry Park, 2015). Baert holds a PhD in Communications from McGill University.
---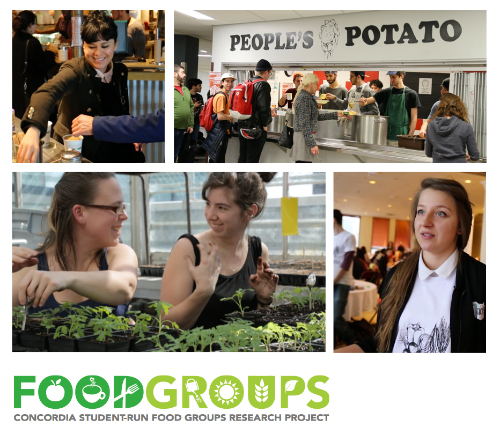 Erik Chevrier produced a series of videos for the Concordia Student-Run Food Groups Research Project, a participatory-action-research project. Its goal is to work with the student-run food groups to develop a food sovereign, food secure and food just campus. CUPFA's contribution to the project was a small portion of the $50,000 Erik has raised since 2014 to hire researchers to help with the project. CUPFA's contribution was to hire Kim Gagnon to schedule, film, edit, and upload videos to the project's YouTube page and the Concordia Student-Run Food Group archive. Together they filmed interviews with members of the student-run food organizations at Concordia and built a series of maps of the food groups on campus. They also followed the activities of some of the food groups capturing b-roll footage for a documentary about campus food sovereignty that Erik is working on. This project is still ongoing and currently being funded by the Concordia Food Coalition and The Concordia Student Union.
Erik Chevrier is an accomplished professor, researcher and social activist. A part-time professor at Concordia University he has previously taught at Dawson College. He has created a number of organizations, research projects and educational programs including: Co-op Collective Vision, The Concordia Student Run Food Groups Research Project and The Concordia Against Austerity Speaker Series. He is pursuing a multidisciplinary PhD in Humanities at the Centre for Interdisciplinary Studies in Society and Culture at Concordia University.
---
Élisabeth Couture attended a four-day workshop at the United Kingdom Sociodrama and Creative Action Network entitled Advanced Direction Skills for Sociodramatists in April 2016. The workshop leaders, Ron Weiner and Di Adderley, are leading sociodramatists in the United Kingdom and are two of the few practitioners who teach internationally. The program covered a wide variety of approaches to sociodrama, including fundamental action techniques that Couture has incorporated in her teaching. The array of exercises focusing on sociodrama added an important dimension to her current repertoire of psychodrama techniques. Participating in the workshop allowed Couture to engage in a rich intercultural dialogue that addressed group dynamics, reinforcing her belief that beneath potentially opposing ideas and different cultural patterns, people connect when their stories ignite similar emotions.
Élisabeth Couture (PhD Laval University) has led groups of children, teenagers, and adults for more than 35 years as facilitator, director, teacher, and team leader. She has developed her teaching skills during the past 15 years as a faculty member at Concordia University's Theatre Department. She also conducts Playback Theatre performances with the company Promito Playback as part of a dialogue process. Couture is a graduate of the Centre For Playback Theatre and has been certified as a psychodramatist by the International Center of Expressive Psychotherapy in Yamachiche, Québec.
---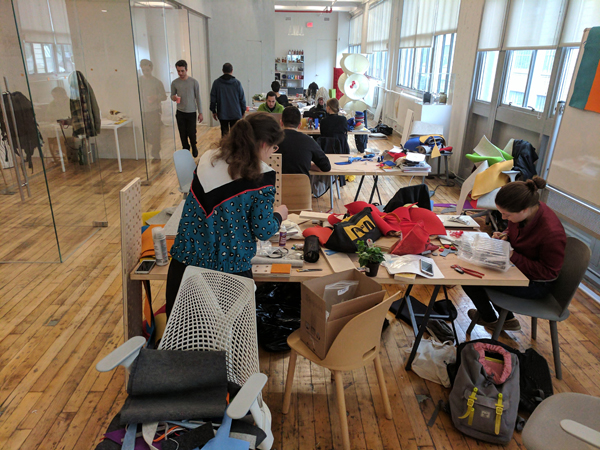 Jeremy Petrus was invited to review the ICFF Design Fair held in New York City in May 2017. The ICFF is America's platform for global design with more than 38,000 interior designers, architects, retailers, representatives, distributors, facility managers, developers, manufacturers, store designers, and visual merchandisers. Participating in this well-renowned fair gave Petrus an opportunity to meet many local and international designers and get a better sense of upcoming design trends.
Petrus was also invited by Claire Pijoulat, founder and curator of Wanted Design, to participate in the design school's workshop as a design specialist and critic. A collaborative project-based initiative, the workshop brought together students from international design schools in Finland, Mexico, France, the United States (Pasadena and Brooklyn), and elsewhere. Students worked around the theme of 'Hyper Hybrid' at Force MAJEURE Design based in Industry City, Brooklyn.
Jeremy Petrus teaches in the Design program at Concordia and is an independent designer running his own studio. After working as a designer in Milan for several years, his experiences range from interior design, industrial design and branding as well as cross-disciplinary projects. As the founder, creative director and news editor of Matterism, he now investigates the many faces of design. Jeremy also acts as an educator at the School of Industrial Design at the University of Montreal.
---
Erica Botner spoke at the annual Canadian Therapeutic Recreation Association Conference on the importance of program evaluation. Her presentation provided a brief overview of program evaluation theory followed by a summary of the process and results of a program evaluation that was implemented at the Cummings Centre, a Montreal non-profit community centre that focuses on the arts, education, health, wellness, and culture for people 50 years or older. Botners' talk looked at different evaluation tools and techniques that practitioners could feasibly implement in their work settings including logic models, useful attendance records, goal attainment scaling, observation, and surveys.
Many of the presentations that took place at the Canadian Therapeutic Recreation Association Conference were research and evidence-based and provided new ideas for realistic ways to include research into one's daily practice, including engaging therapeutic recreation students to conduct action research onsite. Of particular relevance to Botner's field of study were new tools associated with dementia care and program evaluation and evidence-based program ideas on team building activities.
Erica Botner has a BA in Therapeutic Recreation and Aging Studies from the University of Waterloo and an MSc in Rehabilitation Sciences from the University of British Columbia. She is a Recreation Therapist with 20+ years of leadership experience assessing, planning, implementing and evaluating programs and services for older adults and caregivers. She has taught in the Applied Human Sciences program at Concordia University since 2007. She is known for her person-centered, compassionate and strengths-based approach to teaching, service delivery and management.
---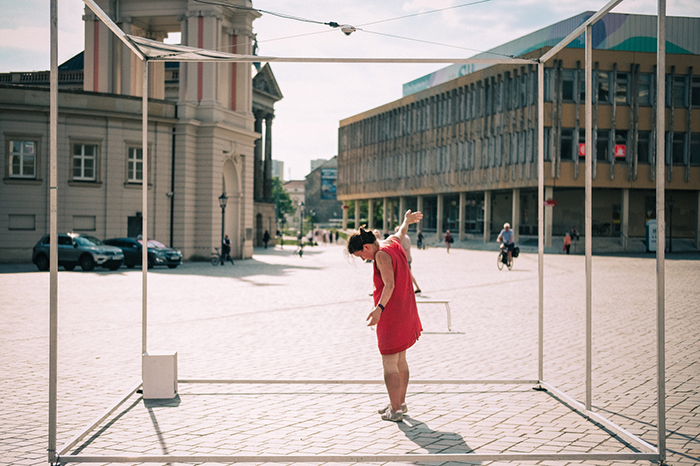 Caroline Laurin-Beaucage created Habiter sa mémoire, a solo piece that was performed five times from August to November 2016. Locations for the performance included Festival des Arts de St-Sauveur, Semaine de la danse de Joliette, and Cinars, Place des Arts, Montreal. In this work, performed inside a 12 x 12-foot box without walls, Laurin-Beaucage allows the public to discover her creative process in real time. For six uninterrupted hours, she plunges into the heart of her trajectory as a performer, striving to bring all of her body's dance memories back to the surface. Sensors capture data on Laurin-Beaucage physical state and the surrounding atmosphere, and these are retransmitted live on a screen during the performance. Throughout the day, spectators are invited to gather around the box as privileged witnesses of a work in continual development under the effects of time and the environment. The Habiter sa mémoire performances have attracted around 700 spectators and the work was selected for the program Jouer dehors, a platform specialized in outdoor public performances in the province of Quebec.
Caroline Laurin-Beaucage has been active as a choreographer, performer and teacher for the past 20 years. She has danced for choreographers such as Ginette Laurin (O Vertigo), Jacques Poulin-Denis, Paul-André Fortier and Jean-Pierre Perreault. In 2001, she began her own choreographic process and created such pieces as: Hit and Fall (2009), SOAK (2011), Entailles (2013) and Matière blanche (2015). Her choreographic work has been presented in Montreal at Tangente, Agora de la danse, OFFTA, the Festival TransAmériques and the Festival des Arts de St-Sauveur, as well as in France, Hungary, Germany and South Korea. She was a member of the artistic committee overseeing the development of Montreal's Centre de création O Vertigo (CCOV); she founded L'organisme and has served as the company's artistic director since its creation. At Concordia, Laurin-Beaucage has been teaching contemporary dance technique since 2005.
---

Susan G. Scott created a series of large scale landscape paintings for a solo exhibition at the Montreal-based gallery bAdA (Beaux-arts des Amériques). Scott's lyrical lines and use of rich colour bear testimony to a lifetime spent in the discovery of an authentic expression. She describes landscape interiors with the fluent ease of someone grounded in abstract expressionism and reborn in narrative figuration painting.
Susan G. Scott first went to New York City to study painting at Pratt Institute. She attended art schools in Boston, Maine and Montreal, and finally the New York Studio School in the early 70s. An invitation to teach painting in Vancouver, British Columbia brought her back to Canada in 1980. She has since taught in various schools throughout North America and currently teaches at Concordia University in Montreal. Scott has had over thirty one person and group shows, including three solo exhibitions that have toured Canada.
---
Pankaj Kamthan presented a paper entitled "Effective User Stories are Affective" at The Eleventh International Conference on Ubiquitous Computing and Ambient Intelligence (UCAmI 2017) in Philadelphia in November 2017.Meeting a diverse group of attendees afforded him a better understanding of how his areas of research were being pursued around the world, including Canada, Chile, Germany, Spain, UK, and USA. As a result of his presentation, he was invited to submit an extended version of his paper in "Socio-Cognitive and Affective Computing", a special issue of the Applied Sciences journal.
Pankaj Kamthan has been teaching for 25 years in multiple undergraduate and graduate programs at Concordia University. His research and pedagogical interests include computer science and software engineering education, conceptual modelling, interaction design, markup languages, requirements engineering, and software quality.
---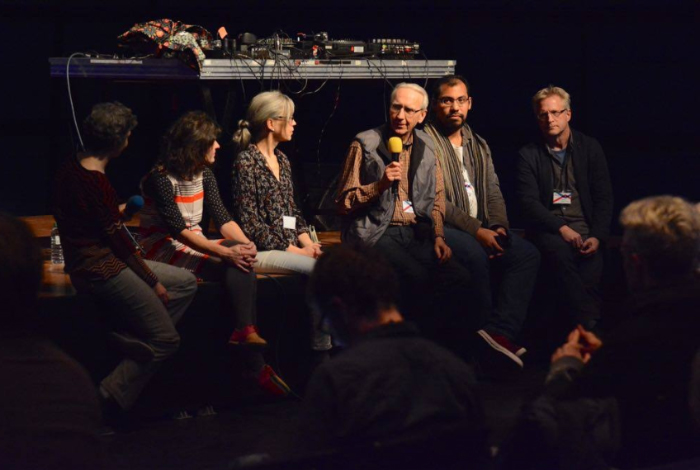 Sandra Eber's experimental film, Dimensions, was presented at the 2016 Punto y Raya: Abstract Art in Motion festival in October 2016. PyR is one of the few events dedicated entirely to abstract film. This edition of the festival took place at the world renowned ZKM Center for Art. Eber's work was showcased among 117 seminal abstract films over a two-day period. The festival provided a unique opportunity to encounter a broad spectrum of approaches to abstract filmmaking. Many of the films screened are difficult to see firsthand and are often only known about through secondhand sources, such as articles and still images found in film journals, books on film, and online film forums.
In addition to meeting many well-known filmmakers and academics, Eber enrolled in masterclasses lead by Jodie Mack, whose work has been featured in Artforum, Cinema Scope, The New York Times, and Senses of Cinema; and Holger Lang, an Austrian curator, artist and filmmaker who has been teaching animation, media arts and aesthetics at Webster University in Austria and St. Louis, USA for over twenty years. She also had the rare opportunity to view a 360-degree immersive installation entitled Two Space produced in 1978 by computer animation pioneer Larry Cuba, with Cuba himself providing a private commentary about the film.
Sandra Eber is an animation filmmaker whose practice draws on experimental film technologies. She is particularly interested in abstract imagery and the overlap between art and science. She recently completed two internationally exhibited experimental pinhole film animations, Con Brio, which was purchased by The Exploratorium in San Francisco for their permanent collection, and Unfettered which debuted on the media facade of the Museum of Contemporary Art in Zagreb, Croatia. She studied Anthropology and Computer Science at McGill and Animation at Concordia. She currently teaches in the animation program at the Mel Hoppenheim School of Cinema.
---
Jonathan Martineau attended a conference at the University of London, London, UK where he presented a paper entitled "The Notion of Context in the History of Political Philosophy" and successfully launched his latest book Time, Capitalism and Alienation (Brill, 2015). The conference paper focused on key methodological problems in the field of the history of political theory, one of the subjects in the History of Western Philosophy taught by Martineau at the Liberal Arts College, Concordia. Martineau will also be editing a volume of work done by key scholars who will contribute chapters to an upcoming book. The conference setting was crucial for meeting important scholars and discussing his ideas for the volume. Other valuable panels attended by Martineau included discussions by experts on philosophers such as Adam Smith, Karl Marx, GWF Hegel and Immanuel Kant.
Martineau also visited the Royal Observatory and the National Maritime Museum in Greenwich, two institutions that hold many key pieces related to the history of time-keeping; this iscentral to his research as he plans future archival research in the history of maritime timekeeping.
Jonathan Martineau completed his PhD in Political Science at York University in Toronto in 2012. His published books and articles focus on social and political theory, time and politics, and globalization and development studies. He has been teaching at Concordia at the Liberal Arts College and the Department of Political Science since 2011.
---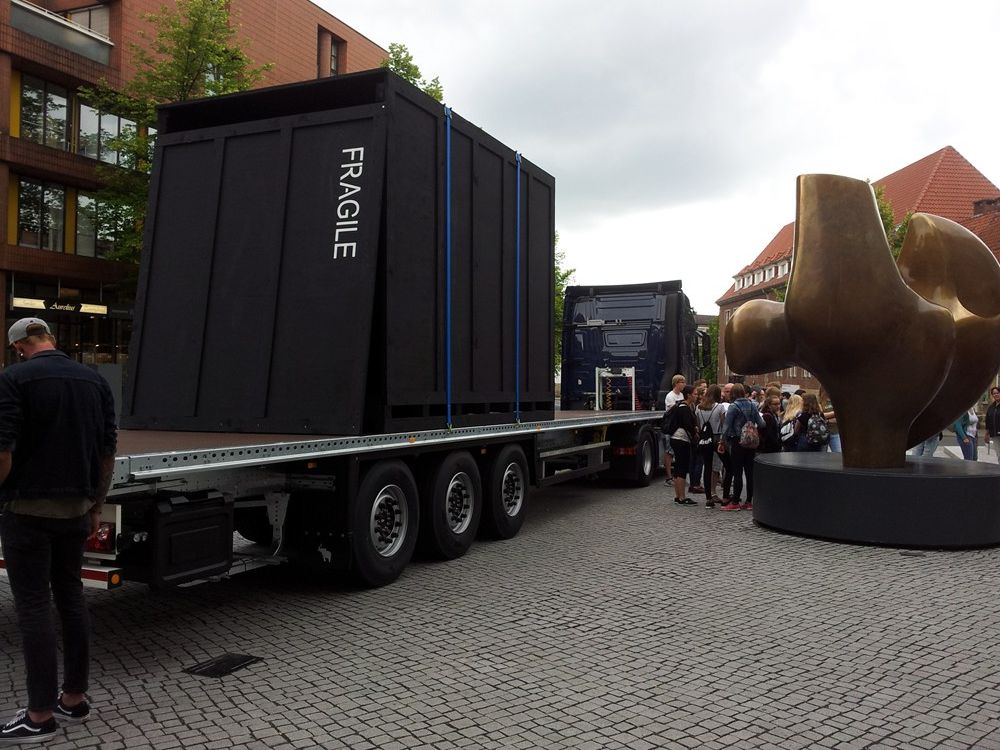 Lon Dubinsky's research explored several traditional and innovative public art practices in the UK and Germany. These included the community-based approach of Situations and UP Projects, which both develop and commission public art, the Art and Public Realm program of the city of Bristol and the Münster Sculpture Project's ten-year cycle of exhibitions that feature the work of international artists. He found that the purpose, genesis, and structure of these initiatives are unlike anything in Canada and as such have the potential to encourage new models and approaches to public art. He intends to communicate the results of the comparative study through publications and conference presentations. A brief review of the 2017 Münster show appears in the Ciel Variable No. 108, 2018.
Lon Dubinsky teaches in the undergraduate and MFA programs in the Department of Studio Arts. He has initiated, led or participated in several multi-year and multi-faceted museum-community collaborations which have been supported by SSHRC and other funding agencies. He also is a consultant to museums, galleries and cities on policy, programming and planning. Recent publications are found in the anthologies Collaborative Heritage Management and Museums and the Past: Constructing Historical Consciousness.
---
Beverly McGuire participated in workshops at the 8th Estill World Voice Symposium that was hosted by Université Laval in Quebec City. Presentations by voice professionals, singers, choir directors and speech therapists were based on the Estill voice model, which aims to demystify the voice by studying it through anatomy and physiology. The symposium allowed her to meet, converse and share ideas with other like-minded professionals from around the globe, whose methods often utilized new technologies and an array of sophisticated instruments that allow investigators to actually see what is going on inside the larynx and vocal cords.
Opera singer and concert recitalist, Beverly McGuire has been teaching all levels of voice students in the Music Department at Concordia University since 1991. With over thirty-five years of voice teaching, she possesses a vast knowledge of the vocal repertoire. McGuire has sung as a soloist and professional chorister and performed many styles including concert, opera, musicals, pop, folk and Celtic. As a member of The Tudor Singers of Montreal she had the privilege of going on many Canadian tours and performing in nine European countries.
---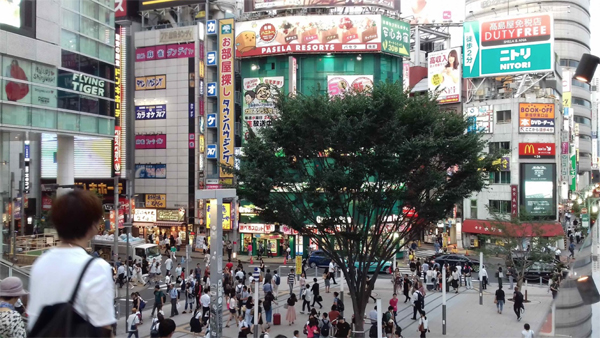 In August 2017, André LeBlanc gave a conference presentation entitled Joseph Delboeuf (1831–1896) on Time as the Mechanism of Free Will before the International Society for Theoretical Psychology at Rikkyo University in Tokyo, Japan. LeBlanc described Delboeuf's original theory within its historical context and discussed its relevance to psychological science today. When the law of the conservation of energy was first formulated in the mid 19thcentury, it became immediately apparent that it posed a problem for free will because it now seemed impossible to exercise a freely chosen action without introducing new energy into the universe. But since time doesn't figure in the equations of thermodynamics, Delboeuf postulated that if living organisms could influence the time it takes for energy to transfer from one molecule to another, they could thereby influence the course of matter without violating the principle of energy conservation.
André LeBlanc was born and raised in Fredericton where he obtained a Bachelor of Science at the University of New Brunswick. He received an MA and PhD at the Institute for the History and Philosophy of Science and Technology at the University of Toronto, followed by post-doctoral research at UQAM and Harvard University. After teaching three years in the History of Science and Technology program at the University of King's College in Halifax, Nova Scotia, LeBlanc took a teaching position with the history department at John Abbott College in 2008. He has been teaching the history and philosophy of science at Concordia's Science College since 2011.
---
Adrian Norvid visited Tokyo, Ome, Kyoto, Nara, and Kanazawa in order to produce the core elements for his work TOKYO NOTEBOOK/PAPER PSEUDO PRODUCTS. During the three-week trip he made copious notes, drawings and observations, with the intent of converting them into a series of Paper Products that would become stock in his ongoing project, the Eyesore Store. The Paper Products are intended to be made as the store progresses and will not be complete until the store is complete. The focus in the research on paper in multiple guises – as packaging, object, substrate, etc. – and on goods generally, channels directly into Norvid's ongoing production of a paper store complete with merchandise. He tries to stretch the boundaries of what paper can do and what a drawing can be; this research gave him more tools and possibilities.
Though the note-taking centered on packaging, display and advertising, shops and paper things, many other themes emerged in the course of this research. An interest in toys and games was foreseen, but street cones, fence varieties, the preponderance of green things and vacant spaces were equally fascinating. Scale disruption was a constant as many Japanese interiors are ultra-compact and compressed. This fed Norvid's ongoing desire to make portable, collapsible forms – houses and kiosks.
Norvid visited numerous museums and collections including the Showa Retro Museum, Ome, the Paper Museum, Tokyo, the Manga Museum, Kyoto, the Kitihara Toy Museum, Yokohama, an old drugstore in Kanazawa and an old liquor store in Tokyo. The feeling of craft and ritualistic attention to detail was present in so many aspects of the Japanese material world and behavior and was deeply influencing. The sensibility of Japanese art does seem to exist in a huge part in decoration, in a celebration of utility, the ennobling of the everyday.
---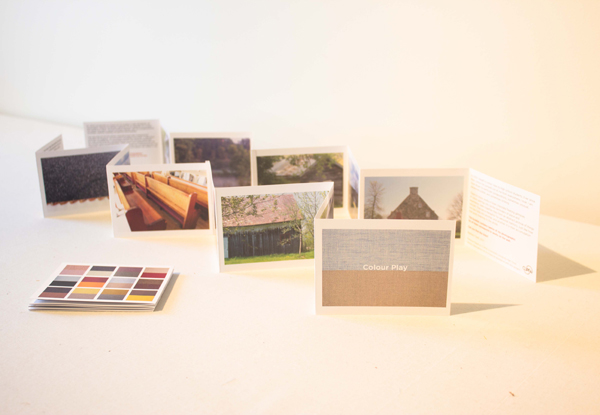 Barbara Todd completed 12 new works for the Septième biennale internationale du lin de Portneuf. The title of the body of work is Colour Play. Each work is composed of a pairing of two rectangles of linen fabric. Her choice of fabrics was inspired by color pairings in photographs taken during travel and her regular commute between Canada and the US. The photographs represent a full spectrum of hues – from the picturesque to the banal. The work translates fleeting glimpses of colour pairings into tactile reminders of place and experience. Each straddles a reading between formal abstraction and domestic household textiles. Seen together, the individual artworks form an archive of things noticed and a metaphor for personal memory. Just as one day folds into another, and another, their accumulation gives meaning to the whole. ​The artworks will be exhibited again at Galerie Art Mur, Montreal, in May 2019.
Barbara Todd's textile works combine a minimalist aesthetic with a poetic and politicized sensibility. Her Security Blankets, which have been exhibited internationally, link the mortal body, domesticity and warfare. Subsequent bodies of work draw inspiration from children's drawings, poems, seaside pebbles and the everyday. Todd's work is represented in museum and private collections and public commissions, in Canada and the U.S. Her acclaimed Healing Garden (2008), a 100-foot-long public artwork incorporating light, colour, and glass, was produced for Sacred Heart Hospital in Montreal. Todd divides her time between Troy, New York, where she teaches weaving at Emma Willard School, and Montreal where she is teaches in the Fibres and Material Practices program at Concordia University.
---
James Freeman presented a paper entitled "The Rise and Fall of Rio de Janeiro's Police Pacification Unit Program" at the 2018 Annual Congress of the Latin American Studies Association in Barcelona, Spain. His paper was part of a session entitled Resilience to Urban Violence 2 – The View from Above: Policy and Policing. This was one of two sessions organized by Tina Hilgars of the Political Science Department at Concordia in the context of the Lab for Latin American and Caribbean Studies. The paper presented by Dr. Freeman is part of his long-term research project on Rio's Police Pacification Units; in it, he took his research in a new direction, focusing on the origins of the program and the causes of its eventual decline.
Dr. James Freeman has been teaching in the Department of Geography, Planning and Environment since 2005. His research focuses on popular culture, public space and political economy in urban Latin America, particularly Rio de Janeiro, Brazil and Managua, Nicaragua. For the last several years Dr. Freeman's research has focused on the consequences of mega-events such as the World Cup and the Olympics for the urban poor in Rio de Janeiro, with a particular emphasis on the Police Pacification Unit program (UPP). He is currently researching the gentrification of Rio's South Zone favelas. Dr. Freeman earned his PhD in geography from the University of California at Berkeley. He is Associate Editor of the Journal of Latin American Geography.
---

Sara Hanley and Kelly Keenan produced a collaborative multidisciplinary artwork entitled Vous êtes ici. The project looks at how an intimate relationship with urban space is shaped by and alternately shapes the inhabitant.Vous êtes ici was developed in two phases. In the first phase, Hanley and Keenan participated in "exchange labs" that were research periods which explored public and private owned public-space (pops), including sessions lead by Mistaya Hemmingway, an urban planner, and Martin Beaulieu, a sociologist. During this phase, Hanley and Keenan engaged in practices in public space by rebounding off of material and dialogue generated by the labs. Practice was oriented towards exploring non-visual senses in the bustling Montreal underground.
The second phase of their project was the creation of two performances.Over two nights in December 2017, Be still & know me (Keenan) and La théorie des ensembles (Hanley) were presentedin a shared program at L'Agora de la Danse in the new Wilder Edifice de la Danse. This work was supported by collaborators in dramaturgy and sound/music composition.
Sara Hanley and Kelly Keenan are both Montreal based dance artists and teachers. Keenan is recognized for bringing her understanding of body through anatomy, somatics and manual therapies into her dance practice as well as for her performative pedagogies and hybrid performance/class. Hanley, a highly physical teacher and skilled performer, investigates the raw materiality of the body and the possibility of navigating through its various stratum. She initiates projects exploring the sensorial body with diverse communities. Both are deeply invested in sharing an experience of the body with others. Hanley and Keenan have been working together for the last few years in a variety of contexts exploring dance, the senses and the city.
---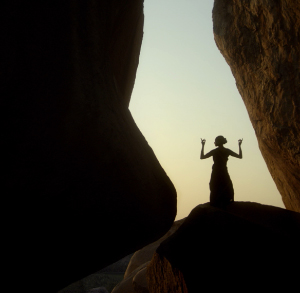 Philip Szporer travelled to the United Kingdom in April 2018 to participate in the Dance in the Age of Forgetfulness conference at the Royal Holloway, University of London, Egham. Szporer presented a performative paper on the 1001 Lights video projection-installation that he co-created with Marlene Millar – a project that was partially funded by a CUPFA PD grant. At the conference, Szporer chaired a performance-discussion by Dr Júlia Ziviani Vitiello entitled Touching in silences and facilitated a discussion after the performance.
Szporer also visited the Dance Department at De Montfort University, Leicester to present his work and meet with faculty to discuss a potential exchange between the De Montfort University and Concordia University and formulate a series of Africa-focused dance films.
Philip Szporer is an award-winning Montréal-based writer, filmmaker and lecturer. He has been immersed in the Canadian dance world for the past 40 years. Currently, Philip teaches in the Contemporary Dance department and the Loyola College for Diversity and Sustainability. In 2001, he co-founded, with Marlene Millar, the arts film production company Mouvement Perpétuel. Together they've co-directed and produced documentaries, short dance films, and installation work to great acclaim. Publications include chapters in Dance's Duet with the Camera: Motion Pictures (2016), Dance in Québec (2008), and Envisioning Dance on Film and Video (2002). Further dance writings appear in The Dance Current, and Tanz, among other publications.
---
Jerry Krauel attended the Association for Language Awareness conference in Amsterdam in July 2018. This helped him keep in touch with research and experiences that are relevant not only to his own professional development but also as a practitioner in the classroom. Papers touched on a wide variety of topics related to language awareness, multilingualism, cultural awareness, teacher preparation, government policies, and a host of classroom practices designed to promote language awareness. There were also five thought-provoking plenary talks. On the first day, a recurring theme in a number of papers challenged the widely-held view that only the target language should be used in classroom instruction. Evidence and arguments were put forward by several presenters showing the benefits of drawing on learners' first language awareness in the acquisition process. By activating their first language knowledge, learners can more easily relate to concepts in the target language, thus facilitating the learning process.
Jerry Krauel had been teaching at Concordia University since 1992. He received an MA and PhD in German from the University of Waterloo and has an MA in Applied Linguistics from Concordia University. Krauel has taught German language courses since arriving at Concordia and TESL and ESL courses for the past twenty years. His particular academic interest lies in historical Germanic linguistics, which he puts to use in a TESL course he regularly teaches entitled The History of the English Language.
---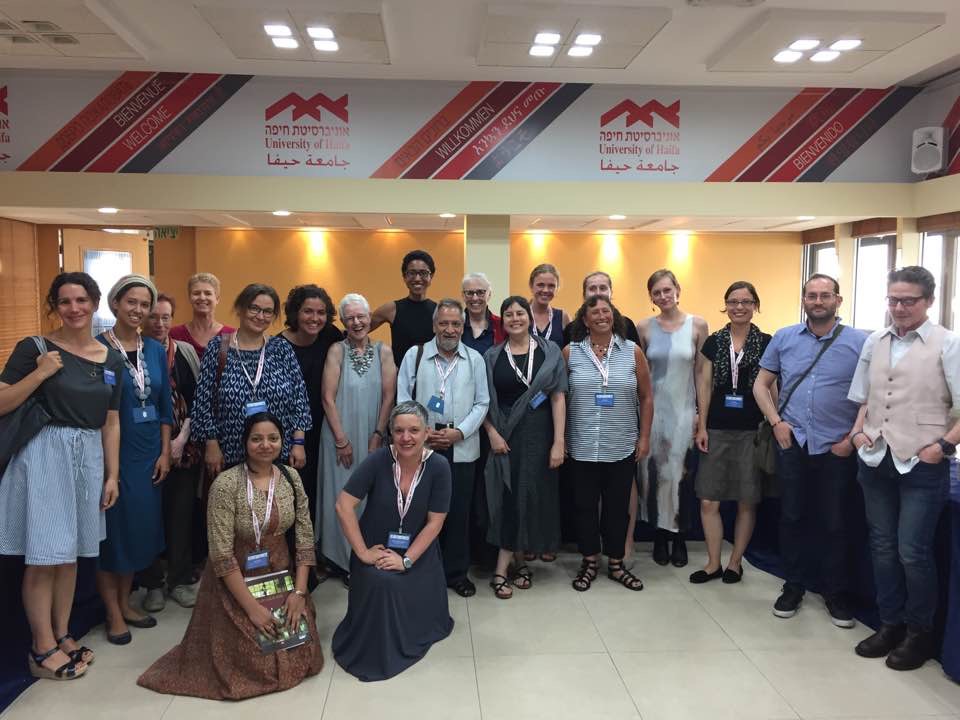 Alexander Antonopoulos presented a paper titled "A Biological Conception of Experience: Feminist Modalities of Beauvoir's 1924 Philosophical Essay on Claude Bernard" at the 24th International Conference of the Simone de Beauvoir Society, in a panel titled Methodological Consideration hosted by the University of Haifa, Israel, in June 2017. The theme of the conference was Simone de Beauvoir's Feminism(s). Antonopoulos's paper argued that while traditional feminist perspectives on Simone de Beauvoir and The Second Sex have focused on the human sciences, today Beauvoir's experimental methodology invokes a paradigm shift that productively situates her feminism within the biosciences as well.
Alexander Antonopoulos teaches courses in gender, sexuality and trans studies at the Simone de Beauvoir Institute and in the departments of Philosophy and Political Science at Concordia University. Co-editor of High Culture: Reflections on Addiction and Modernity (2003), he has published scholarly articles on Simone de Beauvoir in Quebec and the US. His chapter Who Is the Subject of The Second Sex? Life, Science, and Transmasculine Embodiment in Beauvoir's Chapter on Biology is included in the Blackwell Companion to Simone de Beauvoir, edited by Nancy Bauer and Laura Hengehold (2017). He is currently developing work on a transfeminist reading of The Second Sex.
---
Patrick McDonagh presented a paper entitled "The Idiot's Body: social ideology and taxonomies of idiocy in the 1860s & 70s" at the 2017 Interdisciplinary Nineteenth Century Studies (INCS) conference held in Philadelphia, PA in March 2017. The paper was based on his broader research into representations of intellectual disability in the nineteenth century. The conference theme was Odd Bodies and sessions focused on various ways in which different types of bodies were described, imagined, reconfigured in the nineteenth century. McDonagh, whose work is interdisciplinary and focused primarily on the nineteenth century, participated in the session Bodies of the Insane.
McDonagh's research explores the relationship between cultural representations and philosophical and medical notions of intelligence and intellectual disability, especially in the nineteenth century, and with an emphasis on the socio-symbolic labour performed by ideas such as intellectual disability, autism and precursor notions such as "idiocy." He is the author of Idiocy: A Cultural History (Liverpool UP, 2008) and the co-editor of Intellectual Disability: A Conceptual History 1200-1900 (Manchester UP); he has also published articles in Disability and Society, Disability Studies Quarterly, British Journal of Learning Disabilities, and Journal of Developmental Disabilities and Criticism. Book chapters include Autism and Modernism: A Genealogical Exploration in Autism and Representation (Routledge 2008) and In the Age of Empathy in Critical Autism Studies (Minnesota UP, 2013). McDonagh is also a freelance writer, a co-founder (& board member) of the Spectrum Society for Community Living, based in Vancouver, Canada, and a board member of the International Anthony Burgess Foundation, in Manchester, UK. McDonagh teaches in the Department of English at Concordia.
---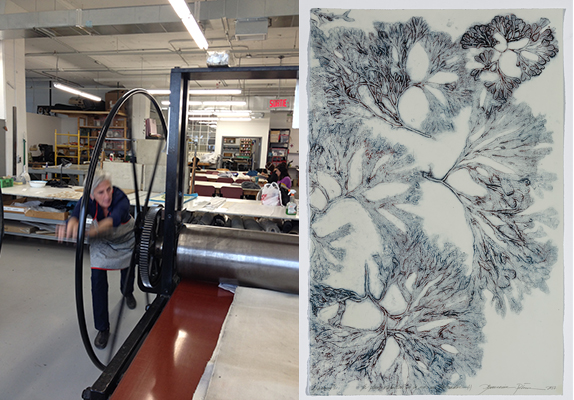 Francine Potvin produced new works for Parole aux bêtes, a three-person exhibition with artists Lucie Champoux and Hannah Cohen that took place from June to July, 2016 at the Freligshburg Art Centre in Freligshburg, Quebec. The works were also part of her solo exhibition, Florilegium, at Art Sutton, Sutton, Quebec from September to October 2016. Florilegium was a tribute to plants "unique, mysterious, beautiful, useful, independent, quiet, and completely peaceful life forms" (Francis Hallé).
In July, 2017 she was chosen to be the visual artist of Leg 6 of the Canada C3 expedition, a Signature Project to mark Canada's Sesquicentiannial. She embarked on the repurposed Canadian Cost Guard Icebreaker Polar Prince and travelled with Indiginous and non-Indiginous Canadians of diverse ages and interests––relative strangers willing to travel from Nain, Labrador to Iqaluit, Nunavut in search of new experiences and bold truths. Thirteen artists involved in this remarkable project will be showing their work at the Ajagemõ gallery of the Canada Council from June 2019 to January 2020.
Francine Potvin is a visual artist, a teacher, a plant aficionado, an avid gardener, and a mother of three young men. Plant life, life processes and the sacred interconnectedness of all things are both the inspiration and the vocabulary of her practice. Over the last 35 years she has exhibited her work regularly in Quebec and abroad with solo and group exhibitions. Potvin has a number of works inCollection Prêt d'Oeuvres d'art du Musée du Québec, Bibliothèque et Archives nationales du Québec and Banque Nationale du Québec.
---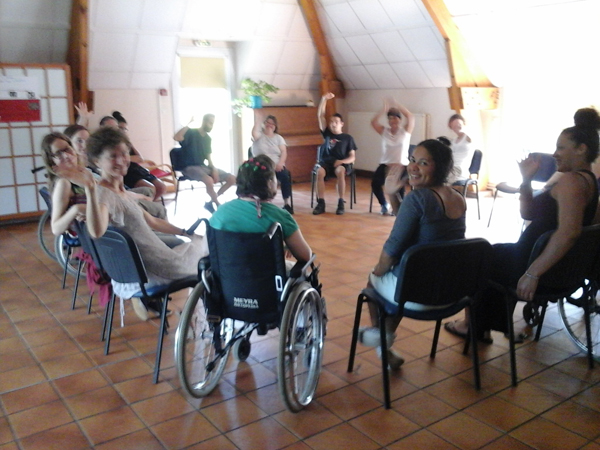 Joanabbey Sack taught workshops and met with professionals on the therapeutic application of dance with Parkinson's disease in Paris, France in June and July 2016. Sack participated in discussions and interviews with dance therapists, health professionals and other educators who work through the Arts and Dance in order to offer safe and beneficial opportunities for people in the early to middle stages of Parkinson's disease.
L'Arche in Trosly-Breuil, Sack implemented workshops and participated in team meetings to explore the basic framework of Speech Initiative Research, utilizing strategies that were developed at the Centre for the Arts in Human Development at Concordia University, thereby linking CAHD and SIR research with the work of L'Arche residents who live with developmental disabilities. L'Arche is a unique community where people with and without intellectual disabilities live, work, and learn together as peers and companions, creating inclusive communities. Originally established in Trosly-Breuil in the 1960s, there are now fifty such communities worldwide.
L'Arche has three communities for adults with developmental/intellectual disabilities in Montreal and others across Canada. In 2007, Sack was able to facilitate the building of a relationship between L'Arche and Concordia University through a Peace and Conflict Resolution Grant (Concordia University) with a presentation entitled Peace: Perspective by Jean Vanier. This grant brought Jean Vanier to the CAHD and to a public audience at Oscar Peterson Hall.
Joanabbey Sack is a certified Dance Movement Therapist with extensive additional training in Social Sciences, Laban Movement Analysis, Theatre Arts and Music. She is a Registered Drama Therapist. Sacks holds an MA in Urban Studies, an MA and Board Certification in Dance Movement Therapy and has RDT accreditation for Drama Therapy. She was a Dance Therapist at the Montreal Children's Hospital for 12 years in Psychiatry and Medicine and has been teaching at Concordia University in the Creative Arts Therapies Graduate Program for twenty-five years. Sacks is currently part time faculty in the Department of Creative Arts Therapies at Concordia University.
---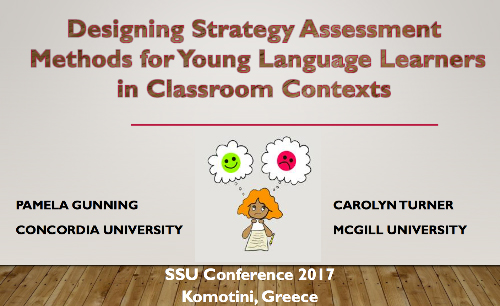 Pamela Gunning presented three papers at the 2nd International Conference on Situating Strategy Use, which was held in Komotini, Greece in September 2017. The conference was organized by the SynMorPhose Laboratory of Linguistics at Democritus University of Thrace, Komotini. Its aim was to stimulate ongoing research and further probe less investigated issues concerning language learning strategies within an international community of scholars. Conference attendees included researchers from twenty-six countries and five continents. Gunning presented two papers for which she was the first author. Her first presentation was entitled Effective Strategies-based Instruction with Children: Varying tasks to maintain motivation, co-authored by Dr. Joanna White, Professor Emerita, Concordia University. Her second paper, Designing Strategy Assessment (SA) Methods for Young Language Learners (YLL) in Classroom Contexts was co-authored by Dr. Carolyn Turner, who recently retired from McGill University. She also presented a paper at a symposium titled Preparing Language Teachers to Teach Learning Strategies organized by Dr. Anna Uhl Chamot, Professor Emerita at George Washington University. Her presentation was entitled Helping Pre-service Teachers Integrate Language Learning Strategies Instruction into Their Teaching. Gunning was approached by researchers from Greece and Austria to collaborate with her on future research projects and apply teaching strategies for young learners that were developed by Gunning and co-author Dr. Joanna White in a five year research project that was partially funded by Professional Development funding from CUPFA. Gunning's articles have been published in Language Learning Strategies and Individual Learner Characteristics: Situating Strategy Use, London: Bloomsbury and Learning strategy instruction in the language classroom: Issues and implementation. Bristol, UK: Multilingual Matters.
Pamela Gunning has been teaching at Concordia since 1995. She has vast experience as an elementary English as a Second Language (ESL) teacher. Under the auspices of the Ministry of Education, she co-authored a strategy training module to help teachers incorporate learning strategy instruction into their ESL teaching. She has co-authored several Ministry approved ESL textbooks for children. She is the author of the questionnaire Children's SILL, the first adaptation for children of Oxford's Strategy Inventory for Language Learners. Her adaptation has been translated into five languages and used by various international researchers Her teaching and research focus on primary pedagogy, strategies and classroom-based assessment.
---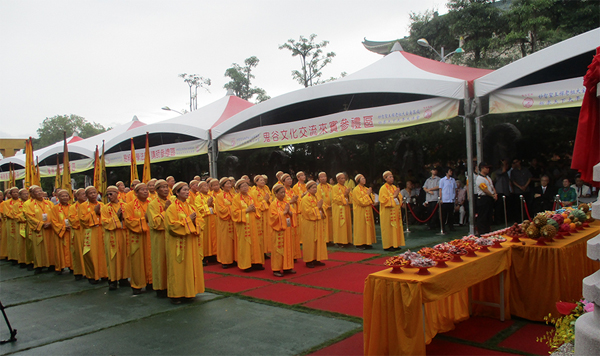 Susan J. Palmer presented a research on a new religion in a paper entitled "Rajneesh/Osho and Feminine Charisma: The Mysterious Life and Death of Ma Yoga Vivek" at the 2018 (Italian) CESNUR (Center for the Study of New Religions) Conference in Nantou, Taiwan. (This paper will be published later this year in Nova Religio: The Journal of Emergent Religion). Palmer also chaired a session on Scientology and presented a ten-minute response to the Plenary Address by Eileen Barker, Professor Emeritus of LSE, on the topic of Charismatic Leadership.
The conference included field trips to Taiwanese Buddhist, Confucian, and Taoist temples and centers where Palmer was introduced to a variety of Asian religious practices, their symbols, architecture, myths, and lineages, which helped her gain new insights into how religion functions within the Chinese and the Taiwanese state. In light of this experience, Palmer became actively involved in co-authoring reports on Chinese and Israeli NRMs (New Religious Movements) for legal cases and in supporting members of religious minorities who seek political asylum in Canada.
Susan J. Palmer is a sociologist of religion who lives in Montreal, Quebec. She is an Affiliate Professor at Concordia University in Montreal and a Member of the School of Religious Studies at McGill University where she is the Principal Investigator of an Insight SSHRC-funded research project, "Children in Sectarian Religions". Her research in the field of new religions has been funded by grants from Canada's Federal Social Science and the Humanities Research Council (SSHRC). Palmer has published eleven books/edited volumes, notably Moon Sisters, Krishna Mothers, Rajneesh Lovers (Syracuse, 1994); The New Heretics of France (Oxford University Press, 2011); Aliens Adored: Rael's UFO Religion (Rutgers, 2004). Her most recent book, co-authored with Stuart Wright, is Storming Zion: Government Raids on Religions (Oxford University Press, 2015)
---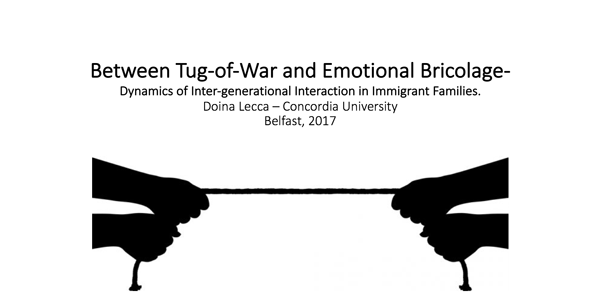 In July 2017, Doina Lecca presented a poster at the 15th International Pragmatics Conference in Belfast – Ireland, whose general theme was Pragmatics in the Real World. Lecca's poster, Between a Tug-of War and Emotional Bricolage – Dynamics of Immigrants' Intergenerational Interlanguage, explores complex aspects of communication in first-generation immigrant families whose children were either born in their adopted country or came to this country at a very young age. Her pilot project focused on twenty Eastern European families from Romania, Bulgaria and Serbia who are now living in Canada. Qualitative analysis from data obtained from specially designed questionnaires revealed intricate aspects of interaction related to phatic communion and mutual inter-generational language learning meant to bridge the gap created by each generation developing its own dominant language. The data also indicate that parents are often torn between non-intervening in their children's immersion in the new language and culture and passing on to them the language of their country of origin, whose gradual loss most first generation immigrants deplore.
Doina Lecca's doctoral thesis and research area are in the field of pragmatics. A member of the International Association of Pragmatics, she has taught graduate courses in Pragmatics and Semantics for Second Language Teachers in the Applied Linguistics Program of Concordia University. She also taught at the University of Bucharest, Romania and at Duke University, North Carolina as a visiting professor.
---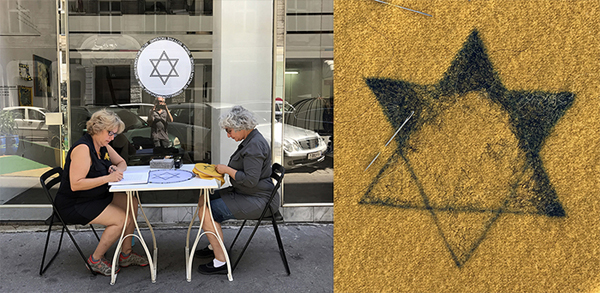 Mindy Yan Miller produced a responsive-memorial entitled SIX MILLION STITCHES: VIENNA 65,000, which remembers Jews who enriched European and Jewish culture and were murdered in the Holocaust in World War II. In June and July 2017, the first iteration took place in various sites in Vienna as part of the Dopust Days of Open Performance. Yan Miller strived to honour each of the 65,000 Viennese Jews who lost their lives in a brutal and inhuman manner with a stitch of human hair that was pricked into a yellow cloth Star of David, the identifying badge Jews were forced to wear in public under the Nazi regime. She worked with two collaborators: Sharon Yan kept count of each stitch in a book and Marcus Miller handed out pamphlets with contemporary accounts of Viennese Jews who experienced the Holocaust to passersby and facilitated engaged discussions about historical events, personal accounts and whether or not Austria is safe for Jews and other minorities today.
Mindy Yan Miller's installations, sculpture and performative pieces investigate labour, identity, loss and commodification. She often works with masses of found or ready-made materials such as used clothing, human hair, coke cans and cowhides. Her work has been exhibited in Canada, Europe, the United States and Mexico since the mid-eighties. She has been the recipient of numerous grants from the Canada Council for the Arts, the Quebec Arts Council and the Saskatchewan Arts Board. Yan Miller lives with her family in Saskatoon and in Montreal where she regularly teaches Fibres and Material Practices at Concordia University.
---
Nicole Paquet participated in a one-week course entitled Mindfulness: An Educational Retreat at a symposium for mental health professionals that was organized by the New England Educational Institute at Cape Cod in July 2017. The course provided a solid theoretical approach from both Eastern and Western scientific perspectives, allowing an intellectual as well as intuitive and visceral understanding of mindfulness practice. It examined how mindfulness can enhance therapeutic presence and transform our understanding of the causes of psychological suffering across the diagnostic spectrum. It also offered practical ways to adapt techniques to clients' needs and included special techniques for dealing with conditions such as anxiety, depression, chronic pain, stress-related medical disorders, and interpersonal conflicts.
Nicole Paquet has been teaching in the Creative Arts Therapies Department since 2000. She has a Master's degree in Art Therapy at Lesley University in Cambridge, Massachusetts and a PhD in Transpersonal Psychology at the Institute of Transpersonal Psychology (now called Sophia University) in Palo Alto, California. She was president of the Association des art-thérapeutes du Québec from 2002 to 2008. Along with teaching at Concordia, she has a private practice in art therapy and psychotherapy in Quebec City.
---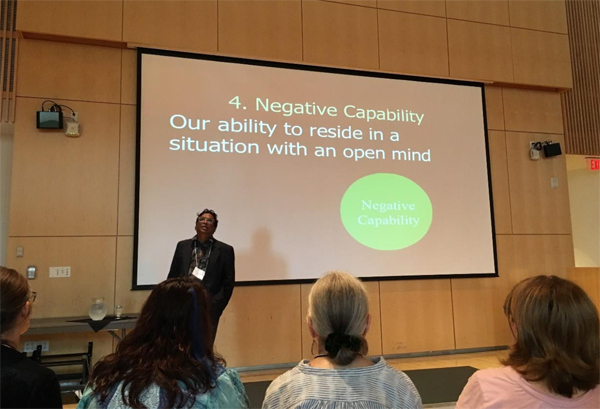 Sara Terreault participated in the 13th Annual Summer Session on Contemplative Learning in Higher Education at Smith College, Northampton, Massachusetts in August 2017. The Summer Session consisted of six days of lectures, contemplative practices, workshops and discussion periods that focused on contemplative pedagogy in colleges and universities. The program allowed for sustained and in-depth learning and practice. The workshop presenters and attendees ranged across academic disciplines, including the humanities, the natural and social sciences, fine arts, economics and business, and computing and engineering. The group was also diverse in terms of conventional "location", lending a great openness to the scholarly and practical exploration promoted at the session.
After completing a BFA in Art History and an MA in Theological Studies from Concordia University, Terreault engaged in PhD studies in historical and contemporary spirituality. Terreault has contributed to the formation of the program for Spiritual & Community Animators of the English school boards throughout Quebec. A guest speaker on spirituality in both academic and non-academic settings, she has presented a spirituality workshop for women at the Maison Tanguay correctional facility and for the past four years has accompanied groups of students from THEO 234 (pilgrimage studies) on a 4-day pilgrimage for decolonisation to Kahnawake Mohawk Territory. In collaboration with Concordia's Indigenous Directions Leadership Group, she co-facilitated a shortened version of this pilgrimage as a decolonising experience for Concordia Senior Administration from Aug 31-Sept 1, 2017.
---
Sharyn Sepinwall presented a paper entitled "Women of Valor: Literacy as the Creation of Personal Meaning in the Lives of a Select Group of Hassidic Women in Quebec", Canada at the annual International Conference on Education and Learning Education Studies. The paper is based on an ethnographic study of a group of Hassidic women and inquiries into the roles, uses and functions that literacy plays in their lives as evidenced in the following areas: the link they make between their secular and religious worlds; their delineated and complementary gender roles; the challenges of modernity and feminism.
Using the metaphors of being seen and heard, Sepinwall explores the public and private spheres of these women and the roles they perceive they play in influencing their own lives and the lives of others. One stereotypical assumption about Hassidic women is that of subjugation and oppression. This ethnographic study explores what these women do as opposed to what they are prohibited from doing. The paper explains aspects of their lives that make them appear to be content and serene.
Sharyn Sepinwall holds a BA from Concordia, a MEd and PhD from McGill, graduating with honours, and a Teaching Certificate from MacDonald College. In addition to teaching full-time in the Psychology Department at Champlain College, she teaches in the Management Department at McGill University and in the Student Success Centre at Concordia.
---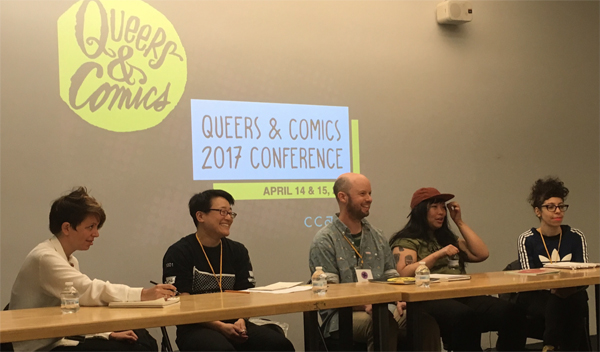 Jenny Lin presented papers on two panels at the Queers and Comics conference in San Francisco in April 2017. In the first panel, Expanding Comics – New Ways to Use Words & Pictures, Lin's presentation focused on aspects of three-dimensionality and tactility in her hand-printed pop-up books, tunnel books and folded zines. She spoke about her interest in using strategies such as first-person narrative, fixed vantage points and the viewer's involvement in unfolding or activating narratives through the physical handling of the book works she creates as spaces for shared perspectives and experiences. In the second panel, Publishing Queer & Trans Comics – Print and Digital, Lin spoke about her experience with self-publishing together with her partner Eloisa Aquino, with B&D Press, a queer micropress that they have run since 2009. B&D press focuses primarily on publishing zines and artists' books with queer content and/or by queer artists.
Jenny Lin is a multidisciplinary visual artist based in Montreal. Her practice centres on experimental narrative, including autobiography, fiction and autobiographical fiction. She has created alternative readings of mainstream narratives, particularly reframing the ambiguous and fragmented tropes in storytelling as sites for transgressive actions and identities. Jenny Lin completed a BFA degree at the University of Calgary and an MFA at Concordia University. She currently teaches at Concordia University in the Print Media Program.
---
Valérie Lamontagne presented a paper at the 2017 College Art Association (CAA) Annual Conference entitled "Tech Tech: Textile Technologies" as part of the Media Lounge. The conference was held on February 15-18, 2017, in New York City at the Manhattan Midtown Hilton. The CAA's Annual Conference is an annual mega event which consists of over 200 presentations, panel discussions, workshops, special events, and exhibitions exploring the study, practice and history of art and visual culture. Taking place over a period of four days, it is the best-attended international forum in the visual arts. The Annual Conference offers an unparalleled opportunity to expand your professional network, meet with potential employers, and strengthen your skills in professional-development workshops, mentoring sessions, or portfolio reviews. Lamontagne's panel took place in the Media Lounge, the main stage for new media explorations. In her talk, she presented recent designs, research and curatorial initiatives.
Valérie Lamontagne is a Montral artist-designer and curator. She holds a PhD in Performative Wearables: Bodies, Fashion and Technology from Concordia University where she also teaches in the Department of Design & Computation Arts. Lamontagne is the owner & designer at 3lectromode — a wearable electronics atelier – and the founder & director of the upcoming Fashiontech Festival in Montreal. She is also co-owner of the wearables startup Synapse Wear with Alexander Reeder from Art&Program, based in Tokyo. She has exhibited and curated design and media arts exhibitions and events across the globe.
---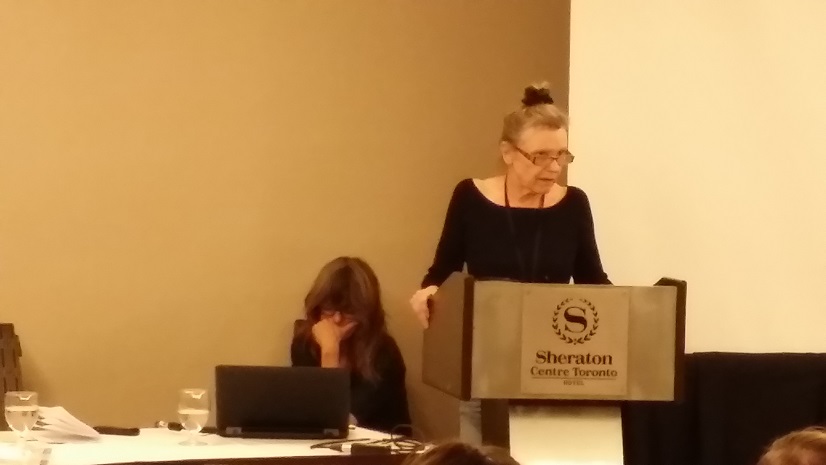 Francine Tremblay organized the Sex Work in Canada: Retrospective and Future Options Conference that took place at the Law and Society Association Meeting in Toronto in June 2018. The objectives of this event were twofold: to provide a well-documented basis for considering future policy and action options likely to improve the health and safety conditions for sex workers; and to encourage communication and collaboration among researchers, policy-makers, practitioners, advocates, and advocacy groups regarding sex workers and sex work. The first event was a panel discussion regarding the changes and implications of sex work policy, practice, and research over the last 50 years. The second event was a roundtable discussion which considered current and future options for improving the health and safety of sex workers.
Francine Tremblay has a BA Specialization in Psychology, a BA in Applied Social Science, and an MA in Sociology from Concordia University, and a PhD from l'UQÀM. She has been teaching at Concordia University since 2002. She has also taught at Carleton University, Ottawa. The courses she offers focus on social issues such as inequality, the social construction of deviance, sexuality, collective action and social movement. She has been an active member of Stella, a community organization created by and for sex workers since 1999.
---
Cathia Pagotto participated in several textile workshops that explored experimental surfaces, silk screening continuous patterns, traditional fleche weaving and printing with natural dyes, all of which greatly enhanced her toolbox for designing costumes in theatre.
Cathia Pagotto received her MFA from the California Institute of the Arts, and went on to design and teach in the US and in Canada. Her costume, set and lighting designs have been shown at the FTA, the Harbourfront Center, the National Arts Center among other venues in Canada, Europe and the US. Her designs have won one DORA award and been nominated for four META awards.
---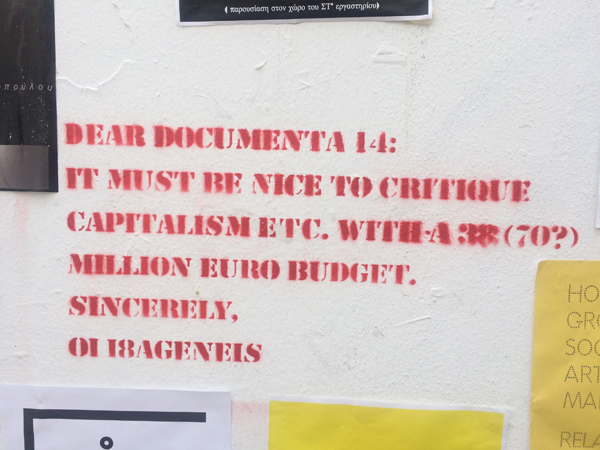 jake moore's research project included traveling to the Venice Bienale, Documenta 14 and Skulptur Projekt Münster, three international art exhibitions that only coincide every ten years. The simultaneous offerings of these significant events held in the summer of 2017 was exceptional as they focused on overlapping issues related to the migrant crisis, the failures of democracy and the Occupy Movement, and the cultural and real world effects of late capitalism. These weighty thematics were amplified by the decision of documenta curator, Adam Szymczyk, to hold this year's exhibition in its traditional home of Kassel, Germany but also in Athens, Greece, even titling documenta 14 Learning from Athens. These curatorial decisions were viewed as colonial by many artists, critics, as well as citizens of Greece, and highlighted the complex relationship between art and multiple economies and how they play out in spatial terms. This intersection of space and politics and the material nature of space is the crux of moore's PhD dissertation and the courses she has been teaching at Concordia.
jake moore is an intermedia artist, educator, writer, and a publications and exhibition maker. She works in any medium to produce intricate yet minimal site installation with a particular fascination for the material nature of media and the communicative potential of material. Her interest in social and cultural practices has led to positions in organizations as varied in size and intention as MAWA (Mentoring Artists for Women's Art) in Winnipeg, Studio XX in Montréal, and the FOFA Gallery at Concordia University. She sits on the Board of Directors at Optica, as well as the Acquisitions and Advisory Councils of the Leonard and Bina Ellen Gallery, both in Montreal She has a BFA in Sculpture and MFA in Fibres and Material Studies from Concordia and is currently a PhD Candidate in Art History and Communication Studies at McGill University. She has been a CUPFA member since 2007.
---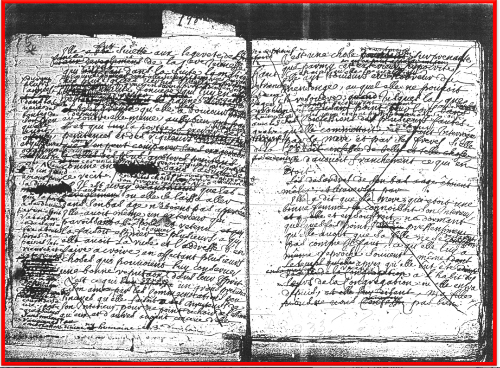 Colleen Gray's research focused on the writings of Marie Barbier, a 17th and 18th century Congrégation de Notre Dame of Montreal nun and mystic. Working from Charles de Glandelet's biography, the only written account of her life and thoughts to date, Gray meticulously laboured to release Barbier's voice from de Glandelet's text, as Barbier's original writings have long since been destroyed. Viewed separately from the de Glandelet's biography, Barbier's writings begin to take on a form of their own, adding a richness of voice, texture and detail to existing historical perceptions and, as invariably the voices of hitherto marginalized individuals do, challenging aspects of the dominant historical narrative. Gray worked with professional transcribers and translators who helped her finalize her manuscript. She also travelled to the Saint Paul University Library in Ottawa and the Séminaire de Quebec Archives to consult material that provided valuable insight and scope to her research.
Dr. Colleen Gray is a writer and editor. She teaches a wide variety of Canadian and American History courses at both the undergraduate and graduate levels, specializing in the History of Montreal, women, religion, and Indigenous peoples in the Department of History at Concordia. In addition to being the author of two published books – The Congrégation de Notre-Dame, Superiors and the Paradox of Power, 1693-1796 and No Ordinary School: The Study, 1915-2015 – she has published numerous articles and poems and presented her work at local, national and international conferences.
---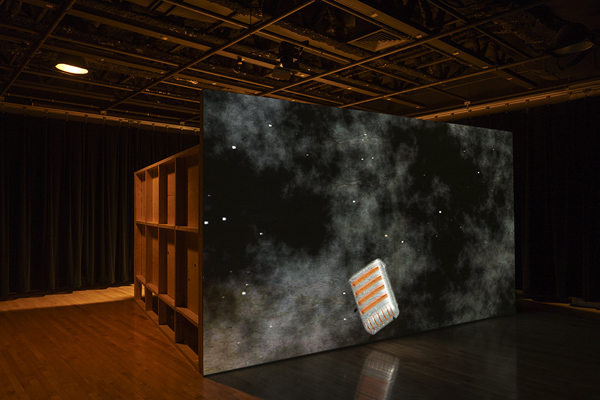 Lorraine Oades's project, First Contact, incorporates simple gaming technologies that allow viewers to control video footage based on scenes from classic flying saucer films produced in the 1950s by playing a Theremin, an early electronic instrument developed through Russian government research into proximity sensors. It was exhibited in the Black Box gallery at the Maison de la culture NDG in April 2016. The monies received by CUPFA covered the costs of purchasing materials and hiring professionals to construct and install a 14-foot structure that housed four custom-make plywood television consoles and a Theremin chair that was used to create the live audiovisual mix. A large-scale video consisting of 1950s appliances hurling through outer space was projected on the exterior of the structure.
Lorraine Oades's sculpture/installations incorporate time-based media such as sound, video and film to invite viewers to physically engage with the work and explore their creative potential. For Oades, art-making is a performance-based activity where the process of time is implicit in the final artwork. Early works like the Diane Piano and Fuse use multi-track audio technologies and multiple tape-recorders to examine three-dimensional aspects of sound. More recent work explores the use of musical instruments as physical interfaces that the viewer can play to control multi-channel video. She teaches in the Studio Arts Program at Concordia University.
---
Elma Moses presented the paper "Reconciliation through Iiyiyuu Ayimuun and Iiyiyuu Iihtuun (Cree Traditions)" at the Canadian Indigenous/Native Studies Association (CINSA) Conference in Regina, Saskatchewan in June 2016. The conference was co-hosted by the Urban Aboriginal Knowledge Network (UAKN) and the First Nations University, Regina. Moses's research examines Indigenous issues in education using Indigenous methodologies. Her paper involved the idea of reclaiming Cree narratives of Iiyiyuu family history by examining the oral tradition through the lens of three generations of Iiyiyuu storytellers. She posited a theory of Iiyiyuu storytelling of eastern James Bay Cree in which Elders' teachings are foundational and central to the philosophy/ies, worldviews, and ways of knowing of Indigenous Peoples. Elders' teachings are invisible to "mainstream" society but they are happening in the contemporary period despite colonialism and assimilation. Such teachings are acts of resistance and show the resilience of Indigenous knowledge(s) and Indigenous People. On the other hand, many teachings have also been destroyed totally or partially. Other teachings are being recovered, reclaimed, and restored. Restoring the role and place of Indigenous women is central to this recovery process. The conference brought together researchers on Cree language and Indigenous Women's Studies and addressed best practices to academic/scholars from Trent University and First Nation University, as well as scholars from northern BC University and upcoming young Indigenous scholars.
Elma Moses is a member of the Cree Nation of Eastmain and has a PhD from McGill University, Department of Integrated Studies in Education. She currently teaches Linguistic Intro Algonquian courses in First Peoples Studies and a course on Indigenous Women and Feminisms in Women Studies/Simone de Beauvoir Institute at Concordia. She also taught First Peoples Sacred Stories, First Peoples of Canada, and Indigenous Women and Issues. Elma's research interests are in Iiyiyuu oral traditions, Indigenous knowledge, First Peoples' Literature and education. Her current research focuses on reclaiming Iiyiyuu (Cree) family history through storytelling, more specifically women's stories.
---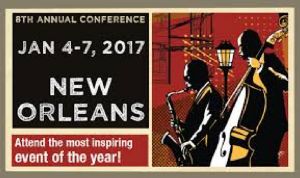 Madeleine Thériault attended and participated in workshops at the Jazz Education Network (JEN) Conference, New Orleans in January 2017. JEN is an organization dedicated to promoting the education of jazz to pupils at all levels. Every year, JEN orchestrates a conference where educators from around the world can network, learn new teaching techniques, talk with publishers about new teaching material (books, music, etc.) and hear school bands, choirs, and professional musicians.
Thériault participated in a number of workshops such as the New Music Reading Session. Participants at this workshop sight read jazz choral charts with rhythm section accompaniment. The purpose was to cover a large amount of content in a short period of time to learn what material works best for individual choirs. In addition, information about books and their publishers such as Reading, Writing and Rhythmetic by Roberta Bradley (assistant chair Ear Training Department at Berkeley College of Music) was provided. The JEN Conference also included the opportunity to listen to jazz choirs from the best jazz programs in the USA, which proved highly inspirational, especially in the birthplace of jazz.
A native of Montreal, Thériault studied both jazz and classical music. She graduated with honours from Concordia University and earned a Master of Music in Jazz Vocal Performance from the University of Miami. She has also participated in many jazz workshops headed by influential figures such as Joe Henderson, Pat Metheny and Betty Carter. Thériault has been teaching at Concordia since 1994. Courses she teaches include the jazz vocal repertoire class, jazz aural perception, private study jazz voice, and music history. She also conducts the Concordia Jazz Choir and gives master classes to visiting schools. An accomplished vocalist and arranger, she has performed with some of Canada's top jazz musicians.
---
Robert Cox attended a forty-hour workshop and training session organized by Me Céline Vallières, one of Quebec's founding advocates for the introduction and implementation of mediation and conciliation. The workshop took place between May and June 2017. It examined the nature of conflicts and their ramifications covering key concepts in an incremental and scaled manner to establish the parameters for mediation. The workshop focused on non-violent communication, including the need to maintain a respectful climate of negotiation, multiparty mediation, the need to remain impartial, and provided methods to develop exit strategies for impasse situations. The workshop opened doors to a new network of colleagues from various fields of the legal profession, including but not limited to Labour Law and Municipal Law.
Robert Cox is a practicing lawyer and an accredited commercial and civil law mediator. A member in good standing of the Quebec Bar since 2001, in 2015 he was appointed to the Bar's Disciplinary Committee upon which he sits and exercises a quasi-judicial function. He did his undergraduate studies at McGill University, obtained a Master's Degree in Public Administration from Concordia University, and completed his legal training in his second language at the Université de Montréal. Since 2007 he has held the position of Legal Counsel and Person Responsible for Access to Information at the McGill University Health Centre (MUHC). Robert has been teaching at Concordia and McGill University since 2000 and has taught thousands of students' topics such as International Public Law, Public Health Law, Business Law, Transport Law, Canadian Judiciary and Quebec Public Administration.
---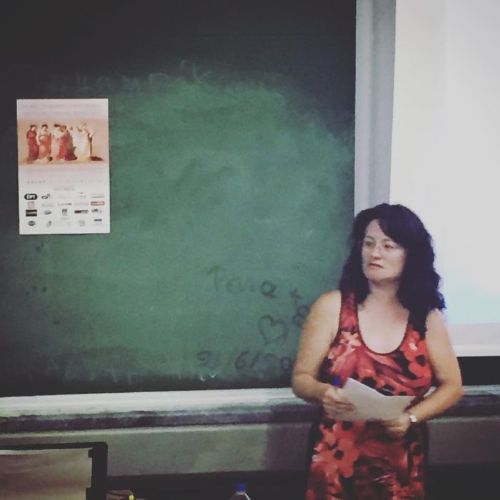 Eleni Panagiotarakou presented her paper "Aristotle's Theory of Virtuous Leisure and Space Exploration" at the World Congress of Philosophy Conference, Athens, Greece in July 2016. The aim of the interdisciplinary conference was to promote the study of all aspects of Aristotle's work. It attracted the top Aristotelian scholars from around the world.
Panagiotarakou also presented the paper "Justitium: Wildlife humanitarian interventions in the Anthropocene" at the Oxford Centre of Animal Ethics, St. Stephen's House, Oxford University, UK in July 2016. In this paper she argues that humans have a moral responsibility to help vulnerable species survive the Anthropocene. Seen from the perspective of deontic logic, this moral responsibility did not exist in the Holocene era (ca. 11,700 BC-1945 AD) on account of humanity's limited impact on the natural environment. By contrast, in the Anthropocene, human activities are causing significant disturbances to planetary ecosystems and by inference to wildlife communities. Non-endangered species risk becoming endangered, and endangered species risk becoming extinct. To that effect she argues in favour of managed relocations – a conservation method which entails relocating species to places outside areas of their historical geographical distribution. While acknowledging that managed relocations are controversial because they carry the ecological risk of invasive species, she nonetheless advocates for their inclusion in the arena of conservation management.
Eleni Panagiotarakou is originally from Sparta, Greece. Her articles have appeared in both English and Greek academic and popular venues. Peer-reviewed articles have appeared in the Journal of Agricultural and Environmental Ethics, Logeion: A Journal of Ancient Theatre, Idealistic Studies: An Interdisciplinary Journal of Philosophy and Les ateliers de l'Ethique. Popular work has appeared in the Jerusalem Post, National Post, Globe & Mail and South China Morning Post. She teaches political philosophy at the Departments of Philosophy and Political Science at Concordia.
---
Michiko Aramaki's paper "Under the Secrecy: American Occupation, Epistemicide and Re-making of the Japanese Identity in Post-war Japan", presented at the CASCA/IUAES conference in Ottawa in May 2017, examines the impact of the loss of Japanese cultural identity that took place In Japan after World War II. It has recently come to light that after the war US authorities occupying Japan systematically created a clandestine list of books meant to be destroyed, but which were actually secretly shipped to the US Library of Congress and University of Maryland. By comparing pre- and post-war literary canons, Aramaki posits there has been a radical separation in the sense of tradition and national identity in contemporary Japanese culture. Her work specifically focuses on Japanese social issues and the impact of migration phenomena; the forced forgetting of culture and religion during post-war Japan; and the complex interplay between kinship/economy and an aging population.
Michiko Aramaki holds a MA and a PhD in anthropology from the University of Tsukuba, Japan and from McGill University, Canada. She has received the Japan Foundation Post-Doctoral Fellowship and Government of Canada Awards. Interested in feminist theory, critical race theory, and postcolonial theory, Aramaki critically interrogates formations of power, political identity, subjectivity, and experience. Her work problematizes gendered subject formations in the configuration of capital and global influences in post-war Japan. Specifically, Aramaki focuses on "epic impact of migration phenomena" and the forced forgetting of Japanese culture and religion under the General Headquarters, US Occupation Army.
---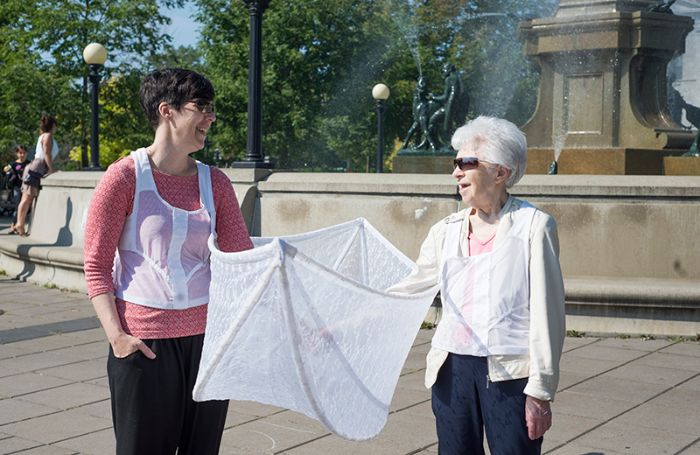 Laura Endacott's 5-channel video installation entitled Coded Stories is a continuation of her research on women and motherhood. This artwork consists of a series of five experimental staged performances that were recorded on video. During the performances Endacott interacted with participants who were filmed at specific Montreal locations where historical monuments of women are located. The participants Endacott worked with have diverse backgrounds and approaches to contemporary motherhood and included: a First Nations mother, grandmother, and stepmother; a mother who used a donor to conceive; a queer couple who each conceived a child; and her own mother who was 88 years-old at the time of filming. Each of these women shared stories about their own personal trajectories and sense of identity, weaving together a rich tapestry that sheds light on the intimate and complex subject of mothers and children.
Laura Endacott is a practicing artist whose research explores women's contemporary identity by focusing specifically on the subject of motherhood. She holds BFA, DIP, Communication Studies and MA (SIP) Fine Art degrees from Concordia University. Her recent work considers the body as an archive. She is interested in social life and articulations of agency using performance and storytelling. Her performance work with textile dolls has been included in a new anthology titled Performing Motherhood. Artistic, Activist and Everyday Enactments (2014) and a series of banners from her solo exhibition entitled The Mother Image are included in the Quebec Craft Museum's permanent collection (2014). She has exhibited in museums such as The Orillia Museum of Art & History (2014), Le Musée des maîtres et artisans du Québec (2009-2010), The Textile Museum of Canada (2000), as well as in artist-run galleries such as Powerhouse/La Centrale (1993). Her work has also been shown in non-traditional spaces such as Les fenêtres qui parlent (Montreal, 2017) The Gladstone Hotel (Toronto, 2008), bankonart.net ATM screen (Toronto, 2010) and ArtWiki: Open Data for the Arts (2012) online exhibition. Back to Top
---
John Donahue presented a paper entitled The Frontier in Latin American Fiction at the Popular Culture Association Conference in San Diego in 2017. While similar environments tend to produce comparable human societies and economies, the same cannot be said of the literature produced by these societies. Donahue's paper looks at the contrast between American frontier literature, which is imbued with a faith in the transformative power of Nature and its subsequent influence on national institutions, and Spanish American fiction, which viewed nature and the frontier as destructive forces working against humankind and its social institutions. His research focuses on American authors James Fenimore Cooper and Owen Wister, Argentinian author Ricardo Güiraldes, Venezuelan author Rómulo Gallegos and Columbian author José Eustacio Ribera.
John Donahue has been teaching at Concordia University for 41 years. He has taught a variety of levels of Spanish language courses along with advanced grammar and composition, research procedures, and essay writing. He has taught all levels of English-Spanish translation as well as Business Spanish. When the Irish studies department was in its infancy he also taught the beginner's Irish language course.
---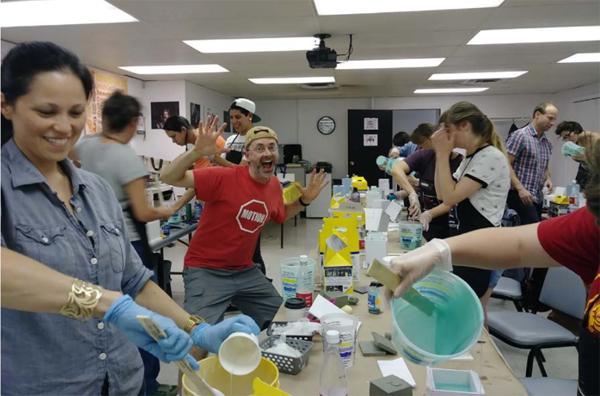 Erik Goulet organized a three-day professional stop motion workshop that was held in conjunction with the Montreal Stop Motion Festival, which he organizes annually. The hands-on workshop focused on the development of traditional analogue techniques and allowed attendees to learn how to sculpt, mould, and cast stop motion puppets. The objective of the workshop was to present an array of materials and skills needed to create puppetry for stop motion films. Two renowned stop motion artists were invited to lead the workshops at this year's festival – Kathi Zung, an artist from North Carolina who has been involved in moulding and casting for the past 20 years and Laurent Canniccioni, a Montreal puppeteer and designer.
Active in the film industry since 1990, Érik Goulet worked for several Montreal production companies before joining Softimage as a 3D product specialist from 1998 to 2008. He currently teaches stop motion animation at Concordia University, from where he graduated in animation. His passion for stop motion techniques inspired him to create the world's first stop motion film festival in 2009 – the Montreal Stop Motion Film Festival (now known as Festival Stop Motion Montreal). Erik has been constructing armatures since 1988 and his diverse expertise, ranging from armature construction to animation, has made him a stop motion resource in Montreal.
---
Howard Davies was invited by the Graduate Programs Chair at the Southern California Institute of Architecture to participate in the Graduate Thesis reviews, attend the final graduation ceremonies, and tour the school's facilities in September 2017.
In addition to teaching at Concordia and McGill, Howard Davies is a practicing architect. He is a founding member of Atelier Big City, whose main objective is to blur the limits between architectural space and landscape. The group was awarded the grand prize of the Order of Architects of Quebec in 1994 for their Interpretation Centre in Pabos, Québec, and the Prix de Rome from the Canada Council in 1999. Other awards include the IDM award for the Landscape Architecture Institute and the Governor General's Medal for the U2 housing project in Montreal. In 2008, U2 also received a Prix d'Integration Architecturale from the City of Montreal. In 2016, Atelier Big City was awarded a "Grand Prix du Design" 9e édition. In 2017, they were awarded a "Prix d'excellence" from the Order of Architects of Quebec for the housing project "U". Howard Davies is also an administrator on the Board of Directors for the Darling Foundry in Montreal.
---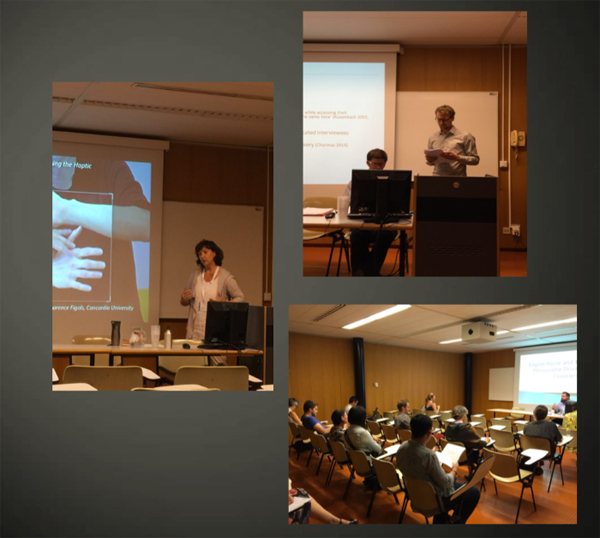 Florence Figols presented her research-paper "Identities In-Between: Choreographing the Haptic" at the ISA International Forum held in Vienna in July 2016. For this research she used choreography as a methodology for sensory investigation to unfold theoretical knowledge embedded within the dance practice and articulate possible pathways between embodied knowledge and language. Along with her paper presentation, Figols organized a panel entitled Artistic Practices and the Senses and chaired the session Psychonautism in Contemporary Arts and Sciences: A Socio-History of Sensory Experience. Figols also attended the pre-conference, where she collaborated with Dr. Adrian Scribano from the University of Buenos Aires to define connections between academic research and artistic practices in relation to the senses, emotions, embodiment and social context.
Researcher and choreographer, Florence Figols' areas of investigation-creation encompass sensory connections, stage presence and the micro-politics of the dancing body. Recipient of many awards, her choreographic works have been presented nationally and internationally in Montral, Qubec City, Toronto, London (Ontario), Guelph, Madrid, New-York, and Puerto Rico. She has recently shared her research via congresses and/or workshops in Montreal, Buenos Aires, Yokohama, Vienna and in Brazil. Figols holds a Master's degree in Dance from UQAM and has been teaching since 1999 in the Contemporary Dance Department of her Alma Mater, Concordia University.
---
ePD was designed and edited by Lorraine Oades with the assistance of Margaret Hodges and Laurie Milner. Special thanks go out to Stuart Thiel for programming ePD to permanently reside on the CUPFA website. The entries are taken from electronic reports submitted by Part-time faculty who received CUPFA Professional Development large grants.
Copyright © 2019 CUPFA All rights reserved.
Our location is: 2150 Rue Bishop, Montréal, QC H3G 2E9