CUPFA is pleased to announce that the recipient of the 2014-15 Special Project Award is Dr. James Freeman, a Part-time Faculty member.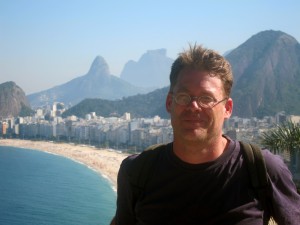 The $10,000 award will allow Dr. Freeman to carry out field research in Brazil next summer and present his findings at two international conferences.  Teaching in the Department of Geography, Planning and Environment, Dr. Freeman has been researching popular culture, public space and political economy in Rio de Janeiro for almost 20 years.
The stiff competition for the Special Project Award was evidenced by the number of applications on a wide variety of valuable topics.  This proved the diversity and richness that Part-time Faculty bring to academia at Concordia.  James' research project, 'Pacification by Gentrification: Mega-Events and the Transformation of Rio de Janeiro's Favelas' looks at the impact of the World Cup and the Olympics on housing markets in Favela communities.
During the winter semester of 2015 Dr. Freeman will be a guest at one of the public conversations organized by the University of the Streets Café.  CUPFA has teamed up with Concordia's Office of Community Engagement to make this free event possible and all are welcome to attend.  A second event will take place when Dr. Freeman will speak at a public lecture at Concordia in the fall of 2015.