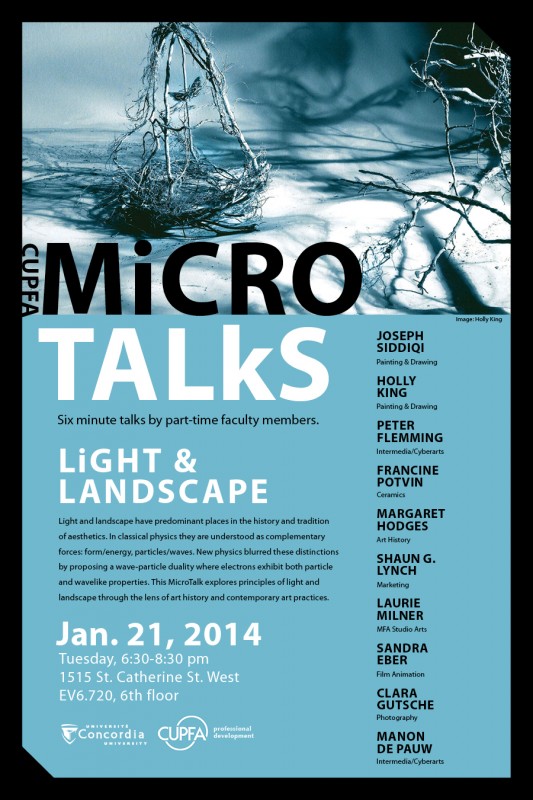 CUPFA is proud to present the second in a series of three MicroTalk evenings that highlight part-time faculty's research and creation.  CUPFA's second event, entitled Light and Landscape follows our first highly successful MicroTalk evening held last October to celebrate Campus Equity Week.
The CUPFA MicroTalks are interdisciplinary events that bring together part-time faculty members from diverse areas within the University.  Light and Landscape showcases faculty from Photography, Intermedia/Cyberarts, Film Animation, Painting and Drawing, Ceramics, Art History, MFA Studio Arts and Marketing.
The themes light and landscape have predominant places in the history and tradition of aesthetics.  In classical physics they are understood as complementary forces: form/energy, particles/waves.  New physics blurred these distinctions by proposing a wave-particle duality where electrons exhibit both particle and wavelike properties.  This MicroTalk explores principles of light and landscape through the lens of art history and contemporary art practices.
: Download talk descriptions
Light and Landscape is coordinated by Alison Loader (Design and Computation Arts).  It will be held on Tuesday January 21st in the Department of Design and Computation Arts, 1515 Saint Catherine Street West, 6th floor, EV6.720 from 18:30-20:30.
All faculty, students and the general public are welcome to attend the CUPFA MicroTalks.  If you are a professor and would like to bring your class please let us know beforehand.
For more information about the CUPFA MicroTalk series contact Lorraine Oades, CUPFA Vice President of Professional Development at 514-848-2424 extension 3691 or locupfa@gmail.com