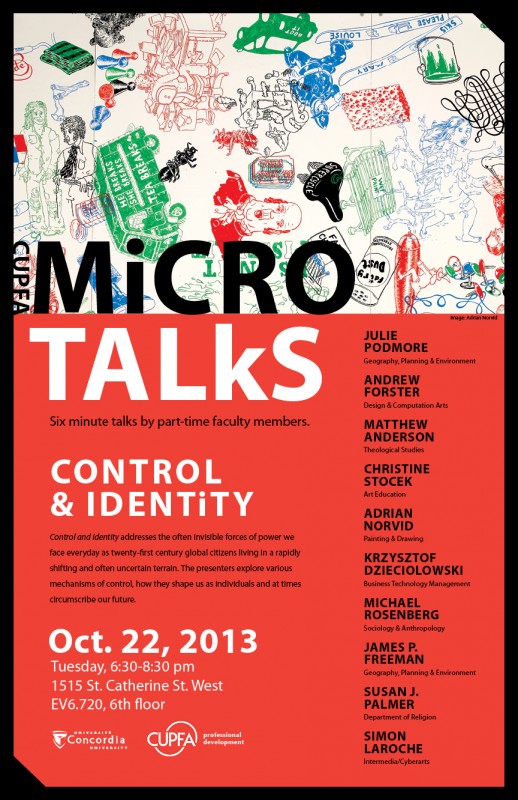 CUPFA is launching the first in a series of three MicroTalk evenings to celebrate Campus Equity Week. Please make sure you attend and pass the word on to your students.
These interdisciplinary events highlight part-time faculty members from all Faculties and include areas as diverse as Sociology, Painting and Drawing, Religion, Urban Planning, and Business Technology Management.
Each evening of MicroTalks will focus on a specific theme:
Control and Identity
Tuesday, October 22nd, coordinated by Donna Nebenzahl (Journalism)
» Download talk descriptions
Light and Landscape
Tuesday, January 21st, coordinated by Alison Loader (Design and Computation Arts)
Community and Culture
Tuesday, February 25th, coordinated by Lorraine Oades (Studio Arts)
The first MicroTalk entitled Control and Identity addresses the often invisible forces of power we face everyday as twenty-first century global citizens living in a rapidly shifting and often uncertain terrain. The presenters explore various mechanisms of control, how they shape us as individuals and at times circumscribe our future.
Part-time professors will discuss these issues through a series of fast paced, energized talks that range in topic from messianic leaders, aesthetic control, video surveillance, data mining, gay urban planning and more.
The MicroTalks will be held in the Department of Design and Computation Arts, 1515 Saint Catherine Street West, 6th floor, EV6.720 from 18:30 – 20:30.
All faculty and students are welcome to attend. If you are a professor and would like to bring your class please let us know beforehand.
For more information about the CUPFA MicroTalk series contact Lorraine Oades, CUPFA Vice President of Professional Development at 514 848-2424 extension 3691 or locupfa@gmail.com
» Download Press Release
» Download Microtalks Control and Identity card