Hundreds upon hundreds of unionized employees at Concordia University
have been working without a collective agreement for years.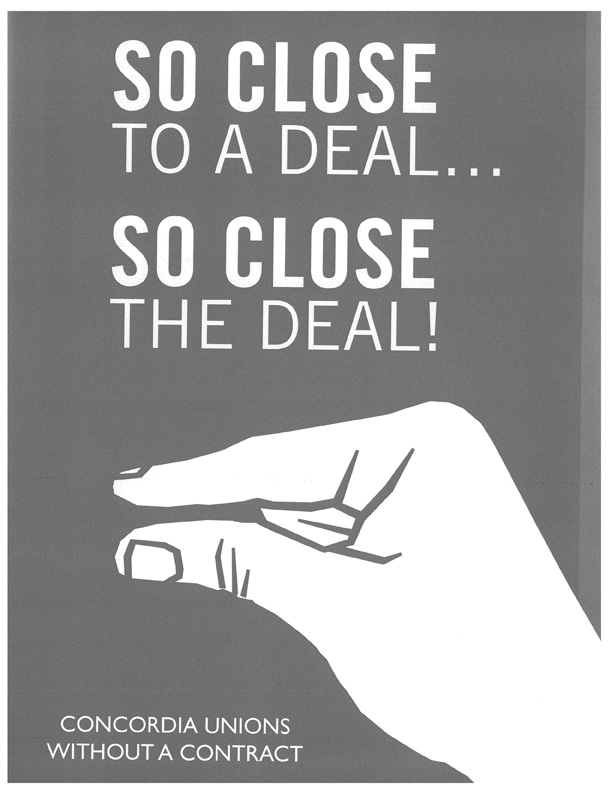 This means that the people who are the backbone of Concordia – library workers, support staff, part-time faculty, technicians, professionnals and tradespeople – have not had a salary increase for up to five years, but the cost of living goes up every year.
The demands their unions have proposed to the administration of Concordia University are very reasonable. They have all made compromises and have negotiated in good faith.
Essentially, they want to ensure that they do not lose purchasing power. But Concordia refuses to negotiate seriously, offering paltry increases lower than the rate of inflation.
The University may hide behind budget cuts, but when we see the sweetheart deals offered to certain members of the administration, we know this is just an excuse.
While millions of dollars are given to individual administrators, much more money is being wasted on uselessly dragging out negotiations with various
bargaining groups for years. Why? To what end?
Con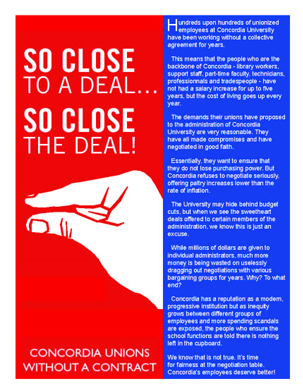 cordia has a reputation as a modern, progressive institution but as inequity grows between different groups of employees and more spending scandals are exposed, the people who ensure the school functions are told there is nothing left in the cupboard.
We know that is not true. It's time for fairness at the negotiation table. Concordia's employees deserve better!