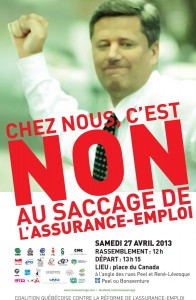 All CUPFA members are advised of the upcoming demonstration against government changes to the EI system. The changes Mr. Harper is bringing in will adversely impact contract workers and place undue burdens on our members. The changes are a step backwards for equal treatment and the rights of workers.
The Association strongly encourages its membership to show their opposition to this mean-spirited government policy by participating in the demonstration this April 27th.
Gathering at 12 o'clock (noon) – March starts at 13:15 p.m.
Location: Place du Canada, corner of Peel and René-Lévesque (Peel or Bonaventure metro station)  
Bring your voice, bring a friend, bring something to make a little noise!